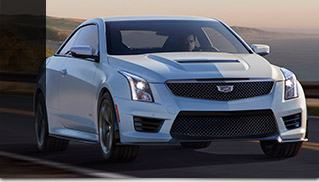 Cadillac today introduced the 2016 ATS-V, expanding the acclaimed ATS product range and elevating the brand's elite high-performance V-Series to its next generation.
Available in sedan and coupe forms, the first-ever ATS-V will introduce class-leading twin-turbocharged power and a comprehensive suite of design and performance systems when production begins in spring 2015.
Since its inception in 2004, Cadillac's V-Series has driven remarkable power and performance capability into the brand's growing luxury car range. Building on the strengths of the award-winning ATS product line, the V-Series adds impressive track capability to what was already the lightest and most agile-driving car in the luxury compact class. The result is a dual-purpose luxury performer – a car with true track capability right from the factory that is also a sophisticated luxury car on the road.