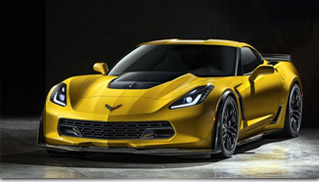 The interest of how the 2015 Chevrolet Corvette Z06 will look like is undoubtedly very high and we are pleased to announce that the first images of the car have leaked. After the unofficial release of the horsepower the car will produce, Chevrolet obviously didn't manage to keep the total secret of car's visual appearance before its debut at the North American Auto Show in Detroit.
The rumors state that the Corvette Z06 will be capable of producing 620 horsepower (455 kW) and 650 lb-ft (480 Nm) of torque. This makes almost 200 hp added over the 450 hp and 200 lb-ft over the 450 lb-ft of torque of the base model.
The pictures that were going around the Internet show not only the external appearance of the car – front and back, but also the interior that it will sport.