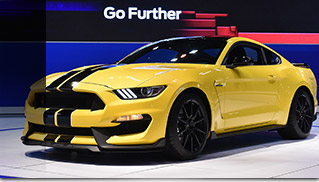 In recognition of the 50th anniversary of the Shelby GT350, Ford will build a limited run of Shelby GT350 and GT350R Mustangs for 2015.
The original Shelby GT350, introduced in 1965, established Mustang's performance credentials on racetracks around the world. The all-new Shelby GT350, featuring the most powerful naturally aspirated Ford production engine ever, re-establishes Mustang as a world-class sports car.
Only 100 Shelby GT350 models will feature a 2015 model year designation before production switches over to 2016. Of these, 50 will be equipped with the Technology Package and 50 equipped with the Track Package.