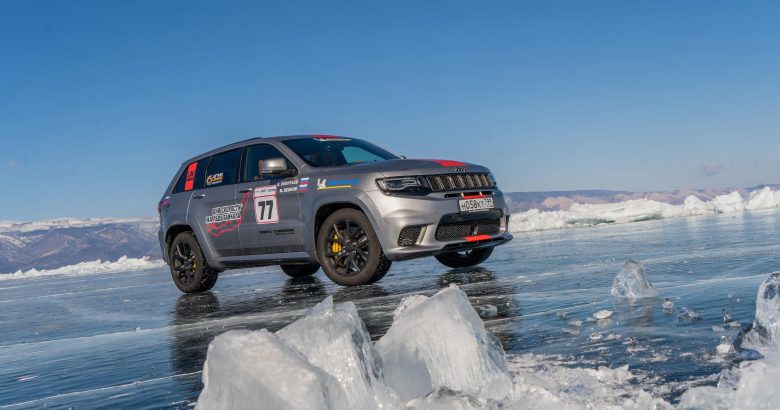 At the annual Speed Days of the Baikal Ice Motor Sports Festival 2019 in Russia, Jeep Grand Cherokee Trackhawk set a new speed record for SUVs driven on ice. Let's check out some more, shall we?
According to the information given by the Russian Automobile Federation, Jeep Grand Cherokee Trackhawk has achieved an average speed of 257km/h for more than 1km distance. The run has started with a rolling start and the average speed from a standstill was more than 100km/h. The maximum according to the tracker was measured at 280km/h.
The vehicle itself, Grand Cherokee Trackhawk is geared with the most powerful mass-produced SUV engine. Or at least, by manufacturer's own words. The piece is a 6.2-liter V8 unit that produces the massive 710hp and speeds from 0 to 100km/h in mere 3,7 seconds. The top speed is measured at 290km/h. Impressive, right?
However, what made this goal achievable, was the braking system. Let us remind you that the Baykal lake is frozen at this time of the year, but there's still some water above the ice, which makes the grip and driving conditions even worse for driver and passengers. Traction was granted by the Jeep Quadra-Trac on-demand four-wheel-drive system, which includes an electric limited-slip rear differential and a single-speed active transfer case, along with five selectable driving modes – Auto, Sport, Track, Snow and Tow.
Let's get back to the event. All the runs were conducted in line with the regulations of the Russian Russian Fédération Internationale de l'Automobile (FIA). The maximum average speed was counted over a distance of 1km with a rolling start. The drivers had to cover a distance of 1km in the middle of the track at the maximum possible speed and 1km from a standing start. The rules also demanded that the timing gates needed to be passed in both directions, with the judges calculating the average result.
The speed days of the Baikal Ice festival were first held back in 2011. For eight years there have been more than 20 speed records in different categories and challenges. And as it seems, the at Baikal never stops! Enjoy!
Source: Jeep