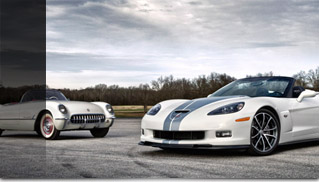 Corvette Marks 60 Years of Performance with 427 Convertible
DETROIT – Chevrolet today unveiled the 2013 Corvette 427 Convertible Collector Edition – the fastest, most capable convertible in Corvette's history – as well as a 60th Anniversary Package that will be available on all 2013 Corvette models.
"The 2013 model year will be historic for Corvette, marking its 60th Anniversary and the final year for the current 'C6′ generation," said Chris Perry, vice president, Global Marketing and Strategy for Chevrolet. "We couldn't think of a more fitting way to celebrate these milestones than bringing back one of the most-coveted combinations in the brand's history – the Corvette convertible and a 427 cubic-inch engine."
The 60th Anniversary Package and 427 Convertible will make their public debut at the Barrett Jackson collector car auction in Scottsdale, Ariz., on Jan 21, and will arrive at U.S. Chevrolet dealers early this summer.
Corvette 427 Convertible Collector Edition
The Corvette 427 Convertible blends elements of the Z06 and ZR1 models to create the fastest and most-capable convertible in Corvette's history.
Its heart is the 427-cubic-inch (7.0L) LS7 engine from the Corvette Z06. Rated at 505 horsepower (377 kW) and 470 lb.-ft. of torque (637 Nm), it is the most powerful engine ever installed in a production Corvette convertible – and, like the Z06, the 427 Convertible is only available with a six-speed manual transmission.
The LS7 was co-developed with the Corvette Le Mans-winning GT1 engine and features lightweight titanium connecting rods and intake valves, as well as racing-inspired high-flow cylinder heads and a dry-sump oiling system. It is assembled by hand at GM's Performance Build Center, where customers who purchase the 427 Convertible Collector Edition can purchase the Corvette Build Experience option and assemble the engine that will power their new car. Read more!