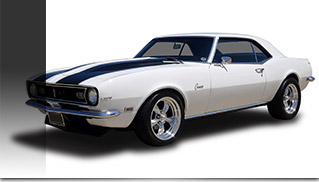 Top-rated classic Chevrolet parts retailer H&H Classic Parts has launched a new line of classic Camaro parts, with an emphasis on providing maximum value without sacrificing part quality. With 95% of H&H customers willing to recommend the retailer to a friend – and an average customer satisfaction rating of 4.7 out of 5 stars – classic Camaro parts from H&H are expected to be popular.
"There are a lot of companies offering restoration parts for the Camaro," explains Tray Smith, Vice President of H&H Classic Parts, "but we're the only one with great pricing and an exceptional customer satisfaction rating."
H&H Classic Parts has been reviewed by hundreds of customers using the Shopper Approved rating system, which collects feedback from customers on order quality, accuracy, wait time, and value. According to the Shopper Approved rating system, 95% of H&H Classic Parts customers would recommend the company to a friend.
"Most classic part retailers do not have any sort of system for collecting customer satisfaction ratings, at least not a 3rd party system that's transparent to the public," explains Jason Lancaster, an auto parts industry marketing consultant. "With the increasing popularity of retailers like Amazon.com and eBay, consumers have come to expect retailers to share reviews. H&H Classic Parts is one of the only companies in the GM restoration parts niche who freely and openly shares their reviews."
In business since 1987, Arkansas-based H&H Classic Parts is known for their wide selection of classic GM truck parts, Chevelle parts, Nova Parts, Impala parts, and Tri-Five parts, many of which are made in the USA. The decision to expand into the classic Camaro parts market was based on customer feedback, according to Tray Smith.
"We've been offering classic Chevy parts for years, and we've had a lot of requests for USA-made Camaro restoration parts since day one. We've decided to branch into this market because of our strong relationships with our customer base, and because of our unique emphasis on USA-made quality parts at a value price."
Source: Spork Marketing