The new Corvette Z06 raises the bar in the sports car segment to new heights. Powered by a new version of the classic V8, reduced to 6.2-litre for forced aspiration by a 1.7-litre Eaton TVS R1740 supercharger, the most powerful production Corvette ever makes 659 hp (484 kW), with 881 Nm of torque! With high-tech as its watchword this new supercharged motor boasts technical highlights like direct fuel-injection, variable valve timing and cylinder deactivation, all controlled by state-of-the-art electronics.
Power upgrade: 730 hp and 944 Nm of torque
Custom GeigerCars.de body kit
Lowered suspension retains stock geometry
To add icing to this already rich cake, Munich-based US car specialist, GeigerCars.de, has just released its in-house developed Corvette Z06 performance package. The formidable 730 hp and 944 Nm output created by this upgrade unleashes a level of raw performance that makes the GeigerCars.de Z06 unbeatable by supercars costing more than twice as much. Power is nothing without control, and to safely harness the extra performance, GeigerCars.de offers a suspension upgrade kit that lowers the ride height for better handling, grip and aerodynamic stability at speed. To ensure that the geometrical accuracy of the modified suspension is not compromised throughout its range of travel, the kit includes a set of offset steering knuckles. The wedge-shaped lines of the Z06 are further enhanced by the carbon-fibre GeigerCars.de body kit, which, in combination with the lowered ride height, gives the car an even wider and more aggressive stance.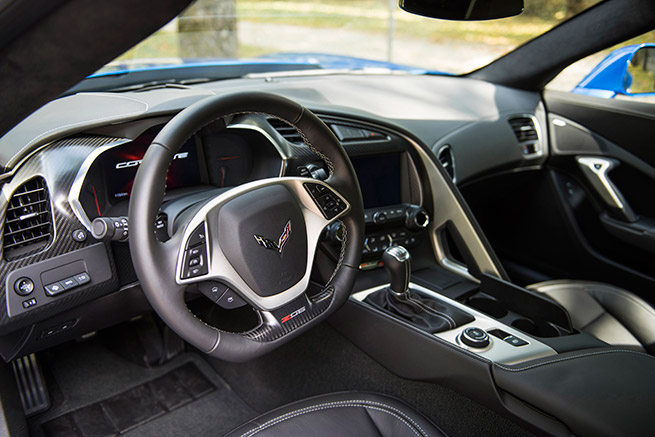 The wind tunnel inspired carbon-fibre front lip reduces lift over the front axle, while the small flaps on either edge help to reduce turbulence around the airflow around the front wheel arches. Out of sight, but vital to aerodynamics, is the undertray below the front bumper that contributes to the flat-bottom effect. Visually continuing the lower line started by the front spoiler lip, the deeply contoured side skirts that help to control air spillage along the cars Coke-bottle shaped lower flanks, lead your eyes to the new rear valence. This incorporates a underbody diffuser section either side of the sports exhaust's four huge outlets. A prominent rear spoiler tops off the list of aerodynamic components. Optimising grip on the tarmac, the front and rear wheel/tyre combination consists of 10.0x19-inch and 12.0x20-inch alloy wheels, shod with 285/30ZR19 and 335/25ZR20 Michelin Pilot Sport Cup 2 track day rubber.
Specifications, Corvette Z06
Engine: V8 petrol engine with supercharger
Displacement: 6,162 cc
Power: 484 kW (659 hp) at 6,400 rpm
Torque: 881Nm at 3,600 rpm
Transmission: 7-speed manual / 8-speed automatic transmission
Consumption city/highway/combined: 15.7 / 10.7 / 12.4 L/100 km (Super Unleaded)
Acceleration: 0-100 km/h: 3.2 sec approx.
Top speed: 320 km/h
CO2 emissions combined: 292 g/km
Energy efficiency class: G
Emission Class: EURO5
Base price: From 114,500 euro
Source:
GeigerCars.de