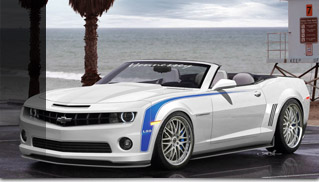 LS9-Powered Camaro Goes Topless
New 2011 Hennessey HPE700 Camaro Gets Convertible Option and 755 Horsepower
SEALY, TEXAS – With the limited production run of Hennessey's 2010 HPE700 Camaro long since sold-out, the company has announced they will build another 24 units for the 2011 model year. This latest run of HPE700′s will include the addition of the new convertible model (from Chevrolet) and an increase in power from its supercharged 6.2L LS9 V8 – the same engine found in the Corvette ZR1.
The 2011 HPE700 gets its additional power from revised boost levels and a more robust fuel system, delivering 755 bhp and 763 lb-ft of torque. This 30 horsepower increase over 2010 will also help move the convertible's extra weight, while the large 15 inch brakes from last year remain to bring it back to a stop quickly.
As the Camaro convertible arrives in showrooms in the spring of 2011, the 6-speed manual SS model will become available alongside its hardtop brethren to become the basis for the HPE700 LS9 Camaro transformation. Read more!