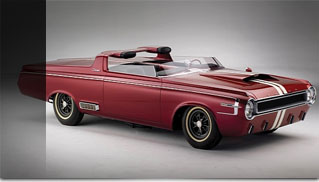 The concept was created in 1963 on the underpinnings of the Polara and was meant to bring in the spotlights Chrysler's newest engine at that particular time, the now iconic 426-cubic inch (7.0-liter) Hemi V8.
This amazing piece of history will be up for grabs at this year's Automobiles of Arizona event held at Arizona Biltmore Resort & Spa, on January 20th. Though the RM Auctions hasn't revealed its estimate yet, we believe it will trade for more than the $1.1 million (€830,000) it fetched last time it was sold, in 2007.
The car is currently in the possession of the late John M. O'Quinn and has been owned by several collectors over its 47-year existence. It was painstakingly restored by multiple award-winner Fran Roxas and it has one of the original 15 race Hemi engines, rated at 600+ horsepower, under the bonnet. Read more!