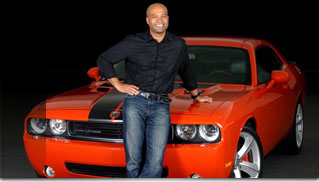 Newly formed SRT® brand sticks to successful vehicle development formula using five proven hallmarks, including awe-inspiring powertrains; outstanding ride, handling and capability; benchmark braking; aggressive and functional exteriors; and race-inspired and high-performance interiors to remain true to its performance roots
Expansion of SRT vehicle lineup in 2012 includes four new vehicles that are world-class performance contenders and deliver latest in safety technologies and creature comforts
Common 6.4-liter HEMI® V-8 powertrain has latest advance technologies for best-ever horsepower, torque and fuel efficiency ratings
July 15, 2011 , Auburn Hills, Mich. - Chrysler Group LLC has officially elevated its in-house performance division – the Street and Racing Technology (SRT®) team – to a separate company brand that promises to maintain its successful formula to design, engineer and build benchmark American high-performance vehicles for Chrysler, Jeep® and Dodge.
The launch of SRT as the company's performance brand comes as three additional vehicles are set to rejoin the 2012 Dodge Challenger SRT8® in the expanding SRT lineup. Making their returns to the vehicle lineup are the 2012 Dodge Charger SRT8, 2012 Chrysler 300 SRT8 and 2012 Jeep Grand Cherokee SRT8. Read more!