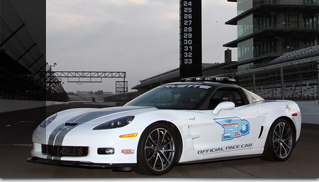 INDIANAPOLIS – A 2013 Chevrolet Corvette ZR1 will lead the starting field of the 96th Indianapolis 500 to the green flag Sunday, May 27 at the Indianapolis Motor Speedway. With 638 horsepower, the Corvette ZR1 is the most powerful production car ever to pace the race.
This will be the 23rd time a Chevrolet has paced "The Greatest Spectacle in Racing" and the 11th time a Corvette is serving as the Pace Car. Both are event records. The 2013 model year will mark the 60th anniversary and the final year of production for the current generation Corvette.
"Corvette embodies pure performance, so the ZR1 is a perfect car to pace the most prestigious auto race in the world," said Jeff Belskus, Indianapolis Motor Speedway Corporation president and chief executive officer. "Chevrolet is a great partner of the Speedway, and we share in the excitement of the upcoming 60th anniversary of the iconic Corvette brand. It's even more meaningful to see a Chevrolet pacing the field at Indy since Chevy has returned as an engine supplier for the IZOD IndyCar Series for the first time since 2005."
"This is a truly momentous year for Chevrolet when it comes to performance, with our continued success on and off track, and especially with our return to the IndyCar Series, powering some of the fastest cars on the circuit," said Jim Campbell, GM vice president of Performance Vehicles and Motorsports. "I can't think of a better way to mark the 60th Anniversary of Corvette than having it lead the starting field of the Indianapolis 500." Read more!