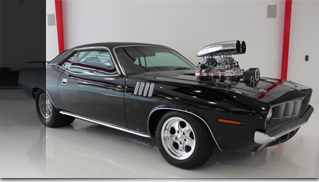 Hang on, this is one of the ultimate muscle cars – a 1971 Plymouth Hemi Cuda with enormous power of 1000+ HP! Prepare for some features:
Engine:
- All aluminum Indy Cylinder Head Motor
- 528 cid 1000+hp 1000 ft lbs of Torque
- Has all best equipment and parts fron Indy Cyl
- 8 quart swing arm Milidon Oil Pan
- TTI headers Ceramic Coated outside – Thermal Coated Inside
- 2-750 cfm Blower Carbs. by Demond
- Blower Shop 871 Blower – 9lbs of Boost
Click on Read more and check out the exclusive gallery!