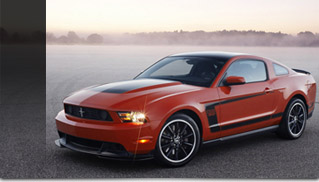 MONTEREY, Calif., Aug. 13, 2010 – Ford gave the green light only once before: In 1968, management approved a special Mustang – a car that sacrificed nothing in its quest to be the best all-around road-going performance machine ever created by Ford Motor Company. That car became the 1969 Mustang Boss 302, and it remains one of the world's most sought-after examples of American performance.
Forty-two years later, Ford has given the green light again.

The team of Ford engineers, designers and stylists – all Mustang enthusiasts to the core – that created the groundbreaking 2011 Mustang GT has distilled a new model to its purest form, strengthening, lightening and refining each system to create a race car with a license plate. Its name: the 2012 Mustang Boss 302.
"The decision to build a modern Boss was not entered into lightly," said Derrick Kuzak, group vice president, Global Product Development. "The entire team at Ford felt the time was right and with the right ingredients, the world-class 2011 Mustang could support a successful, race-bred, worthy successor to the original Boss 302. For us that meant a production Mustang that could top one of the world's best – the 2010 BMW M3 – in lap times at Laguna Seca. We met our expectations." Hit Read More for the full press release.