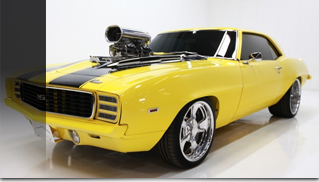 Finished in Daytona Yellow over a black interior with Houndstooth inserts, this 1969 Camaro RS/SS has a killer blend of both Pro-Touring and Pro-Street attributes. The restoration is impeccable, the parts are top notch, and the ride is something else.
Starting with a refinishing down to bare metal, this rotisserie restored masterpiece has excellent body work and features all new trim, glass and chrome from front to rear. Everything is finished in Daytona yellow from the engine compartment, the floors, the wheel wells and the trunk. The paint in a PPG base coat/clear coat and has an excellent hand rubbed finish.
The interior features all new parts from Year One and the seats have been kitted out with the awesome Houndstooth inserts as seen on these cars back in '69. The carpeting, seats, headliner door panels, package tray and crash pad are all new parts. All of the handles and interior trim pieces have also been replaced. Under the dash is tidy, and features new wiring. On that note, the rest of the wiring is all new as well. The dash is now a custom setup from Covan's Classics and features all modern Auto-Meter Gauges. They are accurate, easy to read and really shine at night time. The front seats have been upgraded to a much more supportive and higher bolstered set. They really feel good around tight turns where the original seats would have you sliding all over. Read more!