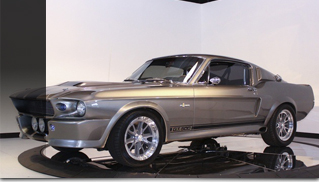 1967 Mustang GT500E Resto Mod "Eleanor" is a very well-known muscle car, but the featured resto mod owns a tuned/built Coyote 5.0L engine 475 hp, custom headers, exhaust, rack and pinion steering, cold air intake, automatic TCI transmission. The mere mention of the name conjures up images of "the ultimately modernized Shelby Mustang", the movie "Gone in 60 Seconds" & legendary performance & good looks.
This GT500E is so much more than most & may very well be the most unique one ever built. It's the culmination of a 6-year project by a very well known Southeastern US classic & custom car builder whose incredible metal fabrication skills can be seen throughout the car. Inside, on & around the historic, ground-breaking engine are many hand fabricated items & many of the finest components today's hot rod industry has to offer:
The air cleaner assembly is a one-off, custom machined unit you'll not find anywhere else. Starting it all is a high-torque mini starter that gets power from a master-switch controlled 1000 amp Optima battery located in the trunk. Keeping that precious engine cool is a custom fabricated aluminum radiator with 2 thermostatically controlled electric fans. Custom touches abound in the form of all-braided steel lines & fittings, polished billet hood hinges, a one-off polished Ford logo cooling system cap, custom, chromed, frame-strengthening tubular reinforcement bars & flat fender aprons and firewall. Read more and see the great image gallery!
Reservoirs & boosters for the hydraulic clutch/power brake system are custom plumbed & hidden under the dash inside the car. The driveshaft spins inside a beautiful, custom fabricated driveshaft safety loop that also serves to strengthen the frame of the car. All the power gets transmited to a nearly bulletproof 4.10 geared Ford 9″ rear axle with a famous "Detroit Locker" inside. All major driveline items are painted "aluminum" to match the aluminum Boss 429 cylinder heads & intake manifold.
The chassis & suspension of this incredible vehicle are just as impressive as the engine compartment. The frame/chassis of the car was completely re-fabricated by hand with extensive use of box-frame steel, cross bracing & driveshaft enclosure. The welds and joining points all show the hallmarks of a master fabricator. The 9″ Ford rear end has been totally modernized with addition of a 4-Link control system, panhard bar, stiffer sway bar and coil over shocks/springs all of which are chromed/polished. The front suspension received the same treatment with tubular control arms, stiffer sway bar, rack & pinion steering & coil over shocks also all chromed/polished. Brake & fuel lines run through major chassis rails, producing a "clean" bottom. Fuel flows from a custom fabricated, mirror-polished aluminum 24 gal fuel tank.
Keeping the brute under control is a set of 4-wheel disc brakes with slotted rotors & steel-braided brake lines. Wheels are polished/painted Shelby AC Cobra style wheels with 245 45R17 tires front/255 50R17 tires rear. Inside this rolling work of art is a correct 1967 Shelby "Deluxe" black vinyl, bucket seat configuration. The brushed stainless dash trim will be familiar to anyone who's ever sat inside a 67 Shelby and the glove box door is appropriately signed by Carroll Shelby. The huge, polished stainless steel nitrous bottle takes center stage and is controlled by an aircraft style "arming" switch & indicator light & a final activation switch atop the custom, white shifter knob. Safety & comfort upgrades inside the car include a Kenwood AM/FM CD player with remote control, stainless/wood Shelby-style steering wheel, a hand-crafted, polished stainless-steel roll bar, modern A/C with hidden vents & controls, a cable-drive wiper motor (also hidden under dash) & custom foot pedals. The trunk is beautifully finished in black carpet & custom black vinyl panels all the way around.