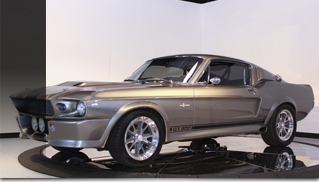 1967 Mustang GT500E Resto Mod "Eleanor" is a very well-known muscle car, but the featured resto mod owns a tuned/built Coyote 5.0L engine 475 hp, custom headers, exhaust, rack and pinion steering, cold air intake, automatic TCI transmission. The mere mention of the name conjures up images of "the ultimately modernized Shelby Mustang", the movie "Gone in 60 Seconds" & legendary performance & good looks.
This GT500E is so much more than most & may very well be the most unique one ever built. It's the culmination of a 6-year project by a very well known Southeastern US classic & custom car builder whose incredible metal fabrication skills can be seen throughout the car. Inside, on & around the historic, ground-breaking engine are many hand fabricated items & many of the finest components today's hot rod industry has to offer:
The air cleaner assembly is a one-off, custom machined unit you'll not find anywhere else. Starting it all is a high-torque mini starter that gets power from a master-switch controlled 1000 amp Optima battery located in the trunk. Keeping that precious engine cool is a custom fabricated aluminum radiator with 2 thermostatically controlled electric fans. Custom touches abound in the form of all-braided steel lines & fittings, polished billet hood hinges, a one-off polished Ford logo cooling system cap, custom, chromed, frame-strengthening tubular reinforcement bars & flat fender aprons and firewall. Read more and see the great image gallery!