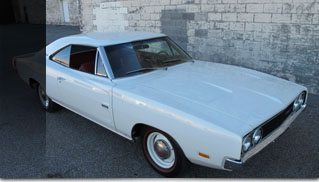 This lovely 1969 Dodge Hemi Charger 500 has:
- True J code Hemi car
– ORIGINAL build sheet!
– Restoration by Julius
– Super Performance Axle Package
– Detailed, clean and QUICK!
One of one…that phrase gets thrown around a little too often.  Usually, the reason there's only one is simple:  Not one person wanted another.  This gorgeous Charger 500 here, though, certainly doesn't qualify.  It's one of the hottest limited production Mopars ever built, it's Hemi powered, and white over red is on of the best combinations put together, ever, from the dawn of motoring to the present day.  Restored by Julius, finished to the nines and documented by Galen as the only white over red Hemi 500 this Charger is a star among stars. Click on Read more!