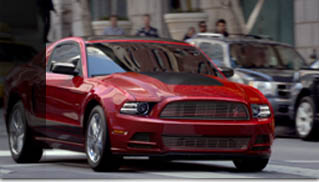 In advance of being shown nationally during the Daytona 500 on Feb. 26, Ford will offer a sneak peek of the "Mustang Inner TV" ad tomorrow at 11 a.m. EST via a Google Hangout and later via YouTube and on the Mustang Facebook page.
Ford's Google Hangout can be watched at the company's Google Plus page: http://gplus.to/fordmotorcompany.
Conventional advertising is usually about the product and not the customer. Companies seek opportunities to sell their item, touting its benefits, performance and how it will improve lives.
"We know that Mustang owners are incredibly passionate about their car," said Matt VanDyke, director of U.S. Marketing Communications. "Rather than just show features and benefits, our new ad demonstrates how people see the product as an extension of who they are. We believe that everyone has an inner Mustang just waiting to be unleashed." Read more!