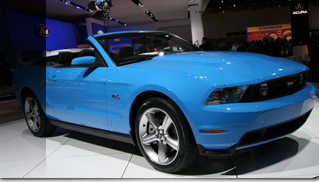 GENEVA – Ford Motor Co.'s design studios worldwide will provide styling ideas for an American icon: the next generation Mustang.
"It is a common process we [now] use on every vehicle," Derrick Kuzak, Ford's group vice president for global product development, said today at the Geneva auto show.
Ford's next-generation pony car will be the first Mustang with styling themes proposed by studios in Europe, Australia and other regions. Previously, Ford's U.S. studio was solely responsible for Mustang design.
"When we embark on a new product, particularly one that is all new, it involves all of the studios. Then J [Mays] and the design team pick the best of those themes," Kuzak told Automotive News. Mays is Ford's global design chief. Ford adopted the global design approach three years ago. Read more!