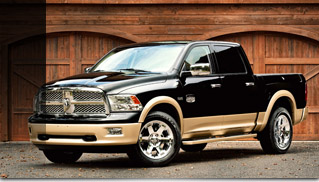 Ram Truck Brand Unveils Laramie Longhorn Edition
- Ram Laramie Longhorn edition: most luxurious Ram Truck ever
– Exclusive interior and exterior features
– New colors, new levels of refinement welcome premium buyers
September 23, 2010 , Dallas -
Chrysler Group LLC today unveiled the most luxurious Ram Truck ever produced by the company. Named the Ram Laramie Longhorn edition, the Ram lineup's most well-appointed model is designed for the owner who needs a truck for work or play, but won't settle for anything but the finest quality and refinement.
Inside and out, Laramie Longhorn is loaded with remarkable features.
"The Ram Laramie Longhorn edition is going to share a driveway with some fine luxury cars," said Fred Diaz, President and CEO – Ram Truck Brand, Chrysler Group LLC. "The only difference is the Ram Laramie Longhorn edition is going to be the vehicle with the fulltime job – towing the horse trailer, taking the crew to the game, picking up supplies. It's ready to go from the dirt to downtown."
Ram Truck officials unveiled the Laramie Longhorn in the heart of Truck Country: the State Fair of Texas. Read more after the jump!