The new 2013 Ford Shelby GT500 is an awesome muscle car.
With a supercharged V-8 engine and 662 horsepower, this little beast can surpass 200 miles per hour – this fact alone would be enough to make many men consider buying the car, but when you consider the low price of £35,000, it is clear that this car is simply a steal!
What's the catch?
There is no catch! With quality Recaro seats, modernised exterior parts and the fact that for a car of its class, it is incredibly economical and will do 24 miles per gallon on the motorway.
This car is the fastest muscle car of all time, even surpassing the Porsche 959, with the ability to go from 0-60 MPH in a mere 4 seconds.
How do Ford manage to deliver such a beast?
The car's V8, 5.8 litre 662 HP engine is forced ventilated, but it isn't all about the engine – the car has a carbon-fibre driveshaft which removes a significant amount of weight from the vehicle and adds to its aero-dynamic qualities.
The Shelby may be in keeping with the Americans' taste for size and power, but it is also pretty safe, with a great Brembo braking system and stable steering which will be much needed at the speeds this thing can do!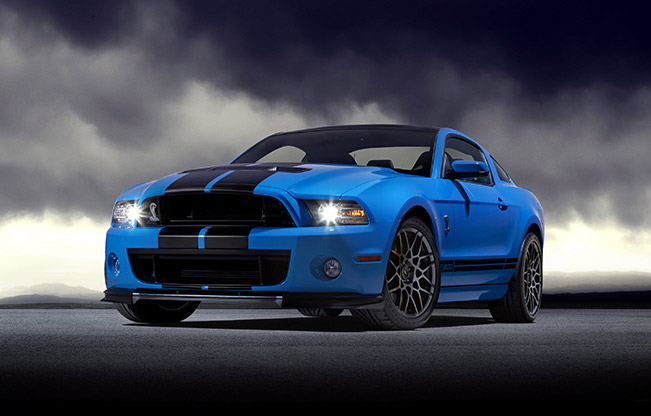 Economical(ish)
Although slow to recognise the need for low fuel consumption, America is now beginning to wake up to this fact, and surprisingly for a car with such grunt and force, Ford have designed the car to do 24 miles to the gallon which will save on car tax as a result.
This is impressive when considering its nearest competitor, the Chevrolet Camaro ZL only does 19 miles to the gallon, even though its 580 horsepower is significantly lower than that of the Shelby.
Well-priced
If you want this car, you will have to import it as the car is only sold in the US and cannot be found at your local showroom.  However, with a £35,000 price tag, this car could well be worth the hassle and extra cost that importing entails.