Well it's fair to say it's been a fantastic Dakar Rally for the KTM Factory team so far, and at stage 12, things got even better.
Current race leader Cyril Despres managed to maintain his lead, whilst superbly helping team-mate Ruben Faria cement 2nd place in the bike contest.
It seemed that team-work was the crucial ingredient to the successful formula the boys from KTM are creating. But this would be tested to the limit as they approached the twelfth stage at Copiapo.
This stage has always carried an element of the 'fear-factor' for Dakar riders of all disciplines, which ensured that there was a hint of caution surrounding the competitors.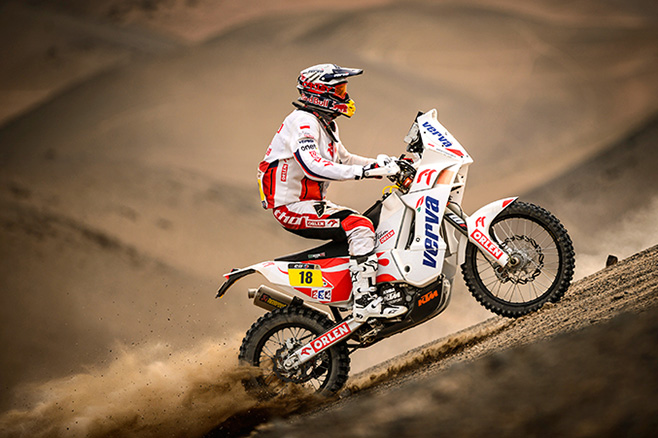 The inevitability of errors and mistakes was increased by the early morning start and the gruelling route to the Andes that followed.
The experience that four-time Dakar winner Depres possesses came into play, as he took a relaxed approach to the penultimate 70km to the stage, however this caused issues for the other frontrunners that overtook him, as they then had to become navigators.
A positive for the KTM team was that this move allowed Faria to make some valuable time.
When asked about his somewhat 'unorthodox' approach, Depres said;
"Ruben was chasing Chaleco (Lopez) who was riding on my rear wheel so I thought I would take down my speed and let him pass. So Chaleco, Goncalves and Barreda all came past me and then it was up to them to navigate. I had a front row seat to watch them struggling to find the route in the dunes and all the while I knew Ruben must be making up time."
The risky strategy he adopted was a sign of fantastic workmanship to benefit his fellow KTM rider, and even though it allowed Chaleco Lopez to gain some precious minutes on Depres, the Frenchman was relatively pleased with the outcome.
"We set off very quickly on this stage; all the riders were going flat out. We woke up very early, at 3 o'clock in the morning but it wasn't really a difficult stage and I enjoyed riding it with Pedrero, Cyril and Barreda. At one point Pedrero was opening the tracks and then I did a bit at the end. The race positions haven't changed, but we had a good day in the desert today."
When it came to the truck race, however, the situation was much clearer, as Team Kamaz controlled all three podium positions.
Andrey Karginov joined his Russian team-mates onto the podium, after recording his second victory at stage twelve.
His team-mate Ayrat Mardeev was sitting comfortably in second place, whilst Eduard Nikoleav looked increasingly likely to claim victory as he proudly sat at the top of the leader board.
Another competitor who looks set for victory is X-Raid Mini driver Stephane Pertenhansel. The Frenchman leads his closest competitors by nearly an hour, with victory well in sight.
"For sure we can smell victory but I can remember two times when I have lost the Dakar just on the last day so we know that anything can happen. I could make a mistake; we could have some technical problems. So, there are still two days left."
Although that is an incredibly comfortable lead, that's nothing compared to Argentinian rider Marcos Patronelli, who is currently sitting pretty with a two-hour advantage, with the likelihood of another South American victory almost a certainty.