Saleen Automotive Inc (OTCBB: SLNN) has expanded its product lineup with the announcement of the Saleen Heritage Collection vehicles unveiled today at Laguna Seca Raceway. A Limited Edition series, Saleen has covered the entire front of the racing field from the most competitive time in SCCA Trans-Am racing history, and pushed them once again to the forefront of the American Pony Car class in a limited edition series.

"As a specialty manufacturer and [racecar] driver myself, it is the perfect alignment of passions that allowed us to complete an entire collection of vehicles during today's event", said Steve Saleen, President & CEO of Saleen. "We may actually be the only company that can offer this type of Automotive Collection all under one brand name."

The trilogy of vehicles debuted at today's event are a continuance of the coveted Heritage vehicles that Saleen produced [to much fanfare] in the late 2000's; The Saleen | Parnelli Jones Edition and Saleen | Dan Gurney Edition. As a collection, each Saleen Heritage vehicle is representative of the top 5 drivers in the Mission Bell race that took place at Riverside International Raceway on October 4, 1970. This particular race was notable in that it was the final race of an extremely competitive season for the SCCA Trans-American Championship.

A compilation of notable special guests were in attendance during today's debut and unveiling ceremony with nostalgic emotion surrounding the event. On display at the Saleen stage were also the original factory-sponsored 1969 #16 Boss 302 Mustang, 1969 #6 Chevrolet Camaro, and 1970 #42 Plymouth Barracuda. Ordaining each new Saleen vehicle in the trilogy was George Follmer for the Saleen | Follmer Edition, David Donohue on behalf of his father Mark Donohue for the Saleen | Donohue Edition, and Angela Savage and Sheryl Douglas (Savage) on behalf of Swede Savage for the Saleen | Savage Barracuda.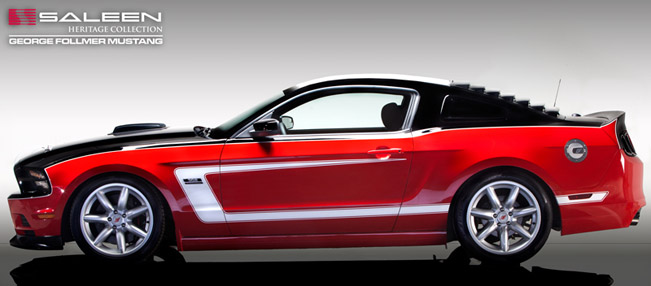 The Heritage Collection Lineup - Celebrating Man and Machine
George Follmer: The GF Edition Mustang remembers one of the most successful racing drivers of this era, George Follmer. Follmer has been described as the go-to wheelman when the pressure was on and races needed to be won. The Saleen | Follmer Edition Mustang is styled from the #16 1969 Boss 302 Mustang that George Follmer campaigned the same year. Coincidentally, 1969 also marks the first year Ford Motor Company debuted and campaigned the Boss 302 Mustang. Mechanically advanced Saleen technology can be found throughout this 2014 Saleen | Follmer edition including a naturally aspirated 470+HP (estimated) 302 high revving 4-Valve engine, track tuned suspension, and a 6-speed manual transmission.

Mark Donohue: The MD Edition Camaro commemorates the diverse and successful racing career of Mark Donohue. As a major competitor during the SCCA Trans-Am series of the late 1960's, Donohue was known to strategize every aspect of his race vehicle from engineering setup to driving toward each victory. The Saleen | Donohue Edition Camaro is largely queued from the #6 1969 Camaro that sparked the flame of major competition for the racing series and claimed the season championship that same year.

Swede Savage: The SS Edition Barracuda memorializes the #42 1970 factory-sponsored racer that Savage drove during the same season. Savage had his series start the year prior and his ambition quickly established him amongst the ranks of the top drivers in the series. The Saleen | Savage Barracuda is a purposeful execution of the notable racer and brings the same automotive passion and ambition that Swede Savage conveyed throughout his career.

Authentic Styling, Advanced Engineering
All 3 new Saleen vehicles wearing the Heritage Collection banner reflect the same vintage racing attitude of their respective counterpart of yesteryear. Paint color schemes are offered only in the same color identity as the original, forming the backdrop for the Special Edition graphics that set each vehicle apart from the rest of the pack. Each interior is composed to give the driver the same excitement and feeling of running hot laps before a big race, but with modern comforts. Exterior aerodynamics are representative of the beloved cars that race fans still reminisce about today.

"All of our vehicles in the Saleen Heritage Collection were designed and engineered to retain the authentic lineage of the original factory-backed racecars", added Steve Saleen. "In driving and seeing the new Saleen versions of each car I am quickly taken back to the memories I personally have of these cars at Riverside International Raceway from the 60's and 70's."

Each of the Heritage Collection vehicles come complete with modern engineering features as standard equipment. Possessing the same authenticity of the race-spec motors of the 1960's & 70's, powertrain development includes naturally aspirated specifications for each Heritage Collection vehicle in the lineup for maximum power on-demand. Suspension is balanced for proper weight distribution, and Braking systems are specifically setup for each vehicle from a race-minded viewpoint. Each of these modern Saleen engineered solutions are carefully integrated to each Heritage Collection vehicle to create a well-balanced machine that could easily find itself enjoying a day turning laps at the track or taking a spin around the block.

Availability and Pricing
The first release of the Collection, is the Saleen | George Follmer Edition Mustang. Unveiled at Laguna Seca during today's Saleen Heritage Collection debut. This special edition is now available for pre-orders and first deliveries are planned to begin late fall 2013.

The second release of the Heritage Collection is the Saleen | Mark Donohue Edition Camaro. Expected to be unveiled in winter 2013, with production beginning early 2014. Pre-order reservations are currently being taken for this release.

The third release in the Saleen Heritage Collection is the Saleen | Savage Edition Barracuda. As the final edition to complete the Collection, production for this model is expected to begin spring 2014, with an unveiling scheduled for early 2014. Pre-order reservations are currently being taken for this release.

Orders for these and other Saleen vehicles can be placed at Saleen dealers nationwide, or by contacting Saleen directly for a personalized ordering process which concludes at the nearest Saleen Authorized Dealership. MSRP for each Saleen Heritage Collection model is estimated to be in the mid $70,000's. For more information visit www.saleen.com