Harley Earl was born in a different era and at a different time.  The date was 1893 and the location was Los Angeles, in an area to become known as Hollywood.  It was a time of much promise for anyone young.  Harley was born into a family of horse-drawn carriage makers whose business eventually evolved into building automobile bodies.  Back then there were few car stylists who worked at the major automobile firms and custom bodies were primarily manufactured by independent firms such as Briggs, Fleetwood and others.  Among these were dozens of small custom shops, such as the Earl Automotive Works in Los Angeles, Ca.
Earl grew up designing custom automobile bodies in the family firm and he was especially good when it came to esthetic details.  So good that his designs eventually made their way to none other than Alfred Sloan who was then the president of General Motors.  It wasn't long before Earl was hired and he was in put in charge of GM's new department of "Art and Color". (John at Lynch Chevy Kenosha relates that this was actually the title of the GMs full Styling Department.)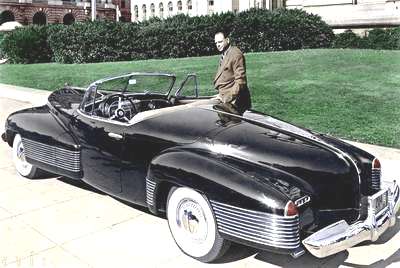 In his new role, he flourished and pioneered many new automotive design techniques. One of the most famous is the full-size clay model technique of designing new cars.  This technique was adopted immediately by virtually all the automotive manufacturing firms of the day.
Earl was the primarily design influence behind many of the most defining artistic automotive details of the time.  For example, the elimination of running boards in the late 1930s is attributed to Harley Earl.  As well as automatic power convertible tops, the adoption of headlights fitted into front fenders, piller-less doors and, this one is big: the rear tail fin.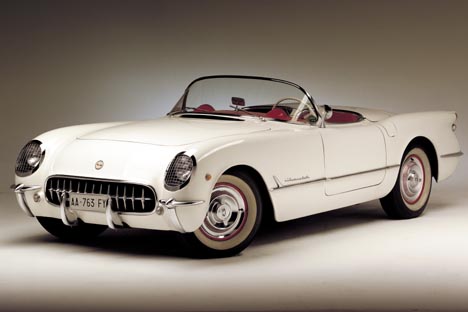 Earl also introduced the automobile business to another very successful new idea: the concept car.  Starting with his Buick Y-Job in 1938, concept cars became driving forces at car shows and were quite popular because they generated great enthusiasm and press for all involved.  Later concept cars attributed to Earl were the 1951 Buick Lasabre, 1956 Pontaic Club De Mer, 1956 Oldsmobile Golden Rocket, and the original 1954 Chevrolet Corvette.  As most automotive enthusiasts know, the Corvette has gone on to become the biggest selling sports car in history.
Photos courtesy of: http://www.oobject.com