The all-new
Ford Shelby GT350
builds on Carroll Shelby's original idea – transform Mustang from a great everyday car into a dominant road racer, elevating it to a new level. Shelby GT350 raises the bar significantly over the already very capable 2015 Mustang GT performance pack, combining the best technologies and most thoroughly engineered components to create the most athletic Mustang ever built. "When we started working on this car, we wanted to build the best possible Mustang for the places we most love to drive – challenging back roads with a variety of corners and elevation changes, and at the track on weekends," said Raj Nair, Ford group vice president, Global Product Development. "Every change we made to this car was driven by the functional requirements of a powerful, responsive powerplant – nimble, precise handling and massive stopping power."
Suspension tuned for maximum performance on road and track
Handling is the performance playground of Shelby GT350, and the car's suspension is heavily revised to maximize cornering performance. Shelby Mustang features all-new aluminum front knuckle, hub and bearing assemblies that are stiffer and lighter than the standard parts. Rigid bushings are fitted to the control arms and subframes for improved steering feedback. Heavy-duty bearings are added for increased lateral stiffness. Front and rear antiroll bars are increased in diameter for improved body control. In an example of obsession to detail, one side of the rear suspension features a new counter-wound rear spring and matching rear control arm so the left and right sides are mirror images – perfecting wheel motion.
MagneRide suspension makes first appearance for Mustang
The star of the Shelby GT350 suspension is the first-ever Ford application of continuously variable MagneRide dampers. The dampers are filled with a hydraulic fluid impregnated with iron particles. When an electric current is passed through the fluid, near-instantaneous adjustment of the suspension performance can be made. With wheel position sensors monitoring motion thousands of times per second combined with other vehicle data, changes can be made to each corner every 7 milliseconds for optimum handling performance.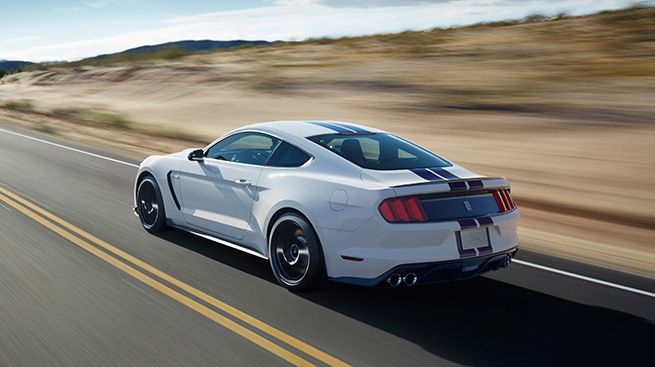 Tireless calibration and tuning has resulted in an integrated driver control software which monitors wheel position, steering angle, damper temperature, signal quality, vehicle position and much more. This advanced software rides on top of the car's drive modes and provides a degree of suspension performance never before seen in a production Mustang. This system is not just designed to make the car handle better, but to instill greater confidence in even the best driver.
Most powerful brakes ever fitted to a Production Mustang
Reducing unsprung mass is key to improving responsiveness, but a balance must be struck between taking mass out of a suspension and delivering truly capable braking performance. Shelby GT350 features the most track-credible brake system ever offered on a production Mustang, consisting of two-piece cross-drilled iron rotors with aluminum hats – the largest rotors Ford has ever put on a production Mustang. Massive 394-millimeter front rotors and 380-millimeter rear rotors are a floating-type and are pin-driven to the aluminum hats to greatly reduce heat transfer to the bearings. These rotors are clamped by six-piston fixed Brembo calipers with integrated caliper bridges at the front and four-piston units at the rear. Dedicated ducting assists in cooling the brakes front and rear for maximum performance. "These cars can be driven by any driver on any track in the world – with virtually no fade," remarks Brent Clark, vehicle dynamics supervisor.
Wheels and tires fit for the track
Shelby GT350 makes use of extra-stiff 19.0-inch cast aluminum-alloy wheels – 10.5 inches wide in front, 11.0 inches in the rear – clad in Michelin Pilot Super Sport tires with GT350-specific sidewall construction, tread face and compound. The custom tires are designed to deliver maximum grip on the road or for weekend track days. Shelby GT350R raises the standard even further. It wears carbon fiber wheels, making Ford the first major automaker to introduce this innovative wheel technology. The hand-laid wheels are 19.0 inches in diameter – 11.0 inches wide at the front and 11.5 inches at the rear, each fitted with custom formulated Michelin Pilot Sport Cup 2 tires. Combined, these wheels eliminate approximately 50 pounds of unsprung weight compared to the aluminum-alloy wheels and Michelin Pilot Super Sport tires on Shelby GT350.
Stiffer chassis
The new platform is the strongest in the history of the Mustang brand, with torsional stiffness increased 28 percent over the previous model. That stiff structure ensures the suspension geometry remains consistent even under the loading caused by hard driving. Shelby GT350 takes that philosophy further – with added bracing to increase overall stiffness. A new lightweight aluminum tower brace connects the shock towers and firewall, and improves front end stiffness. When a lower hood was called for to improve aerodynamic performance, Ford Performance re-engineered the grille opening reinforcement with a carbon fiber composite structure that is 24 percent lighter than the base Mustang while maintaining the stiffness of steel. It is finished so well a beauty cover is not needed – eliminating another 1.9 pounds. Source:
Ford