The 2012 Chevy Camaro has become the fastest and the most powerful muscle car the world has ever seen. The 2012 Camaro is expected to be as forceful as it's possible, with the output rating of more than 570 hp! 580 hp, to be precise. Sounds like it's more than ready for the road. Along with the fierce horsepower, the Camaro makes 550 lb-ft of torque. It goes far ahead than its closest rival, the Cadillac CTS-V.
The Camaro keeps the balance of performance and technology in the one car, with the newest investments in performance traction management and Magnetic Ride Control (MRC). It enables the Camaro's track-focused suspension shift from hard to soft, depending on the track. Let alone active exhaust that awakens the neighbors. The ZL1's Magnetic Ride System includes Sport and Tour driver selectable modes up to the preferred style of driving.
The 2012 Camaro comes with automatic transmission and processes damping information every inch. It's very fast and with the latest advancements in the MR (Magnetic Ride) system.
"Traditional suspension systems at some point compromise ride quality for road-holding grip and body control," said Oppenheiser, Camaro chief engineer. "With Magnetic Ride Control, we can offer customers the best of both worlds: a comfortable ride that makes the ZL1 appropriate as a daily driver and the incredibly precise body control that makes the ZL1 so enjoyable on the track."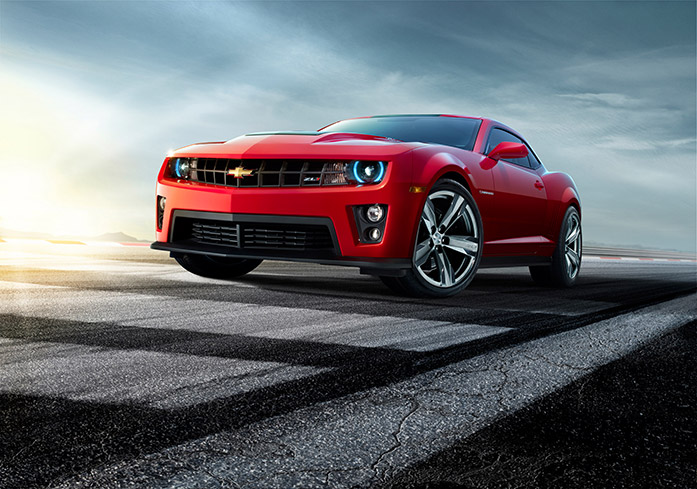 The 2012 Chevy Camaro has improvements in several aspects including powertrain, suspension, interior and exterior as well. Moreover, the improvements touched the 2012 Chevy Camaro SS Coupe with the all-new FE4 suspension to enhance performance.
"Our objective was to create a more precise sport suspension for the SS coupe, with greater road-holding capability," said Al Oppenheiser. "We applied lessons learned from extensive track testing to better refine the suspension geometry for flatter cornering, a more neutral balance during hard turns, and minimized understeer at the limit."
The FE4 suspension combines the cutting-end technologies of the high-performance Camaro ZL1's suspension and includes reshaped stabilizer bars that are switched outboard of the shock mounts. This leads to more effective car handling.
Elements of the FE4 package include:
Retuned front and rear dampers.
New solid front (23 mm) and rear (24 mm) stabilizer bars.
Twenty-inch aluminum wheels and P245/45R20 front/P275/40R20 rear tires (SS).