To balance performance and efficiency, the Z06 leverages the same trio of advanced technologies introduced on the Corvette Stingray – direct injection, Active Fuel Management (cylinder deactivation) and continuously variable valve timing – and leverages them with a new, more efficient supercharger. Combined with the fuel-efficient transmissions, aerodynamic design and lightweight construction, they help make the new Z06 surprisingly frugal. "The new Corvette Z06's performance and technical capabilities makes it one of today's most desirable supercars," said Thomas Sedran, President and Managing Director, Chevrolet and Cadillac Europe. "It is the first Z06 to offer an eight-speed paddle-shift automatic transmission and, thanks to a stronger aluminum frame, a removable roof panel. In addition, it is the first time since 1963 that the Z06 is available as a convertible," Sedran added.
First deliveries in Europe this spring
The Z06 coupe will be offered at a suggested retail price of €109,500 while the convertible model will start at €114,500 (retail prices for Germany). The first deliveries to European customers of the Corvette Z06 with manual transmission are expected in spring of 2015 and for the automatic transmission variant in early summer.
Track-proven structure and technologies
Learnings from the Corvette Racing program were applied directly to the Corvette production version. "The Corvette Z06 is a great example of the technology transfer between racing and production Corvettes," said Juechter. "First, we took what we learned on the Corvette Racing C6.R and applied that to the all-new Corvette Stingray. Then, using the Stingray as a foundation, the Z06 and C7.R were developed to push the envelope of performance on the street and the track." The optional Z07 Performance Package adds even more track capability to the Z06. GM engineers have performed extensive testing at race tracks around the world, including the fabled Nürburgring, to ensure the Z07 package delivers an unparalleled track focused driving experience. The Z07 Performance Package is available for €16,500, adding Brembo carbon ceramic-matrix brake rotors that improve braking performance and contribute to better handling through reduced unsprung weight. The package adds adjustable front and rear aerodynamic components for unprecedented aerodynamic downforce and Michelin Pilot Super Sport Cup tires for enhanced grip.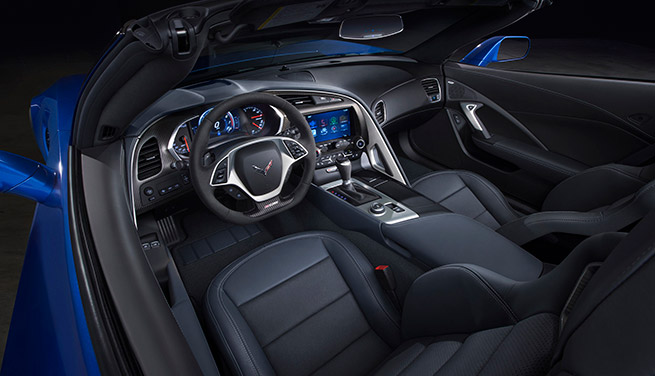 The Corvette Z06 also leverages other technologies introduced on the Corvette Stingray, including the strategic use of lightweight materials and advanced driver technologies, with calibrations tailored for its capabilities. The aluminum frame structure, for example, is 20 percent stiffer than the previous, fixed-roof Z06.
Supercharged performance
The heart of the 2015 Corvette Z06 is the all-new LT4 6.2L supercharged V-8 engine, delivering an SAE-certified 659 horsepower (485 kW) and 881 Nm of torque. To maintain the Z06's mass and performance targets, the LT4 engine was designed with a more-efficient, more-compact supercharger. Even with its integrated supercharger/intercooler assembly mounted in the valley between the cylinder heads, the engine is only about one inch (25 mm) taller than the Corvette Stingray's LT1 engine – while delivering nearly 37 percent more horsepower and 40 percent more torque. A new 1.7L supercharger spins at up to 20,000 rpm – 5,000 rpm more than the supercharger on the Corvette ZR1's engine. The rotors are smaller in diameter, which contributes to their higher-rpm capability – and enables them to produce power-enhancing boost earlier in the rpm band. That boost is achieved more efficiently via a more direct discharge port that creates less turbulence, reducing heat and speeding airflow into the engine. Source:
Chevrolet