Two stunning beauties for sale, which have been refined very expensive, in very high quality and with great attention to detail. Both cars are complete rebuilds without mileage, inside and out - technically and visually new.
Candidate 1:
Chevrolet Corvette C1 1961 in a two-tone metallic paint. In a subtle grey, the combination with the GMC Red effect is strictly made for the vehicle. The interior is based on the vehicle exterior color, is naturally processed just as high quality and provides, together with the black fabric hood, an excellent transition. The heart of this dream car, a 5,7l-V8 LS1 with 385PS / 550Nm from the Corvette C5 and a stainless steel exhaust system from Magnaflow, provide enormous propulsion. Delaying by Porsche-Brembo brake system, designed for the most technical claims, it's also visually pleasing to the eye. With a coilover suspension by QA1 and opulent 20 inch-wheels from Breyton, the overall picture is rounded off very consistent.
Chassis frame:
Blasted base original X-frame and chemically degreased
Rear part reinforced and modified to accomodate rear axle Corvette C4
Front part reinforced and modified to accomodate front axle and axle beam Corvette C4
Welded additive struts for motor mount
X-Frame renewed and modified to accomodate the 3" exhaust system
Swept, ground coated, graphite semi-gloss plastic coated
Axles:
Corvette C4 rear axle (build year 1986)
Aluminium axle parts polished and anodized red
Poly bushes black
All screws black chrome matted
Blasted differential, new bearings and clear plastic coated
Carbon fiber shafts
Corvette C4 front axle (build year 1987)
Aluminium axle parts polished and anodized red
Poly bushes black
All screws black chrome matted
Brake system:
Front axle
4-piston fixed calipers Porsche 993 Turbo / Brembo
Perforated discs Porsche 993 Turbo
Flexible stainless steel brake lines
Other stainless steel brake lines with HOKE - fittings
Rear axle
4-piston fixed calipers Porsche 996 / Brembo
Perforated discs Porsche 996
Flexible stainless steel brake lines
Handbrake cylinder Corvette C4 (build year 1996)
Brake Cylinder AP Racing
Brake adjustment on balance beam
AP Racing pedals
Engine:
Corvette LS1, engine size 5,7l new (build year 2005)
ECM Corvette LS incl. electr. transmission control
K&N air filter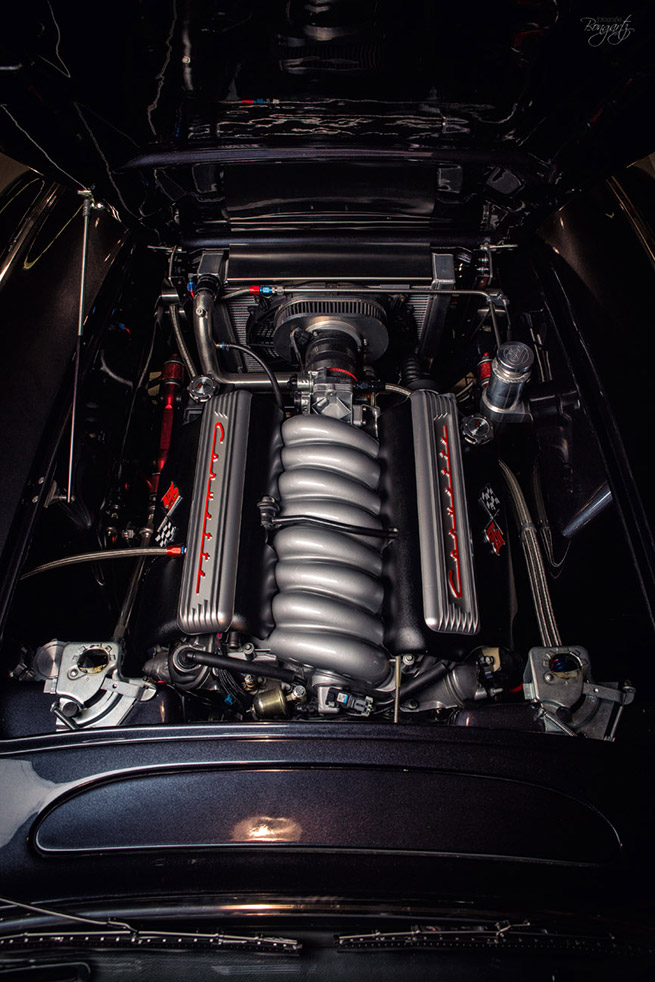 Transmission:
Camaro 4L60E new (build year 2005)
Aluminium drive shaft
Lokar Shifter with electric gear indicator
Torque Converter B&M
Exhaust system:
3 inches stainless steel
Stainless steel muffler Magnaflow
Wheels / Tires:
Front axle Breyton 8.5x20 with 235/30ZR20 Dunlop Sportmaxx
Rear axle Breyton 9.5x20 with 285/30ZR20 Dunlop Sportmaxx
Fuel Tank:
Stainless steel tank with internal fuel pump
All fuel lines fixed at the frame and the body with HOKE - fittings
Crossover lines flexible stainless steel with Earl's fittings
Cooler:
BECOOL-Aluminium radiator with stainless steel lines
Mocal engine oil cooler with Earl's fittings
Mocal gearbox oil cooler with Earl's fittings
Headlights:
Body:
Original C1 Corvette
Completely repainted inside and out
Inner fender newly manufactured to match C4 front axle and engine
Underbody to accommodate the exhaust system, gearbox and rear axle completely changed
New rear fender (about 10cm wider)
Body (inside/outside) laminated completely new and optimized gap dimensions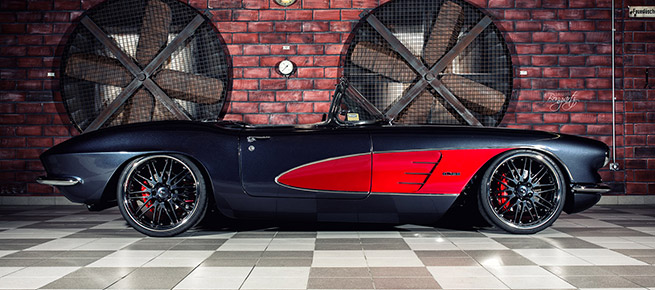 Bumpers:
Cutted and diminished and adjusted to body shape
Newly chromed
Interior Features:
All parts covered with leather
All interior parts new such as bars, handles etc.
Electric windows
Central locking
Seats: frame and cushion new
Steering column: Flaming River polished stainless steel
Steering wheel: Billet with leather half-shell
carpet new
Dashboard fittings: Custom made by Classic-Instruments, adapted to vehicle color
Head unit: Sony MEX1-HD hard drive radio
Trunk: Covered with storage compartments in leather and carpet - custom made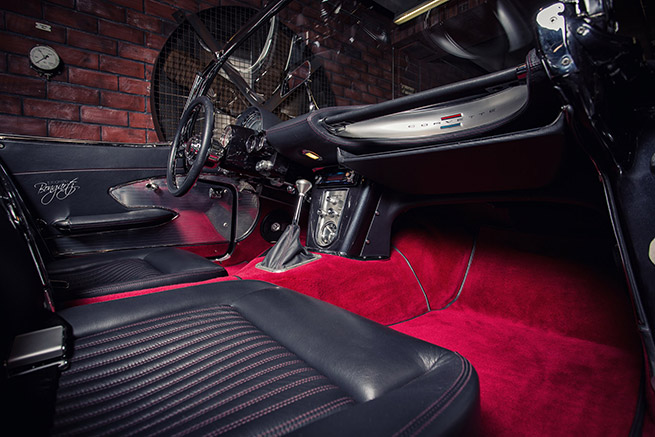 Convertible Hood:
Sonnenland - fabric black
Leverage rechromed
Paint:
Two-tone metallic: Peugeot grey (gris aster) / GMC Red Effect
4-layer clear lacquer
Candidate 2:
Chevrolet Corvette C2 1965 in blue metallic, combined with a blue-black interior, which blends very well. Temporary closed will be done with a soft top in dark blue. A 7,0l-V8 LS7 with 550PS / 670Nm from the Corvette C6 Z06, provides brute propulsion, a Brabus brake system delays very effectively. A coilover suspension by QA1, multiple 20-inch forged wheels by wheelsandmore and lots of chrome, give authentic retro charme of the 60s and complete the overall picture very consistent.
Chassis frame:
Blasted base original X-frame and chemically degreased
Rear part reinforced and modified to accomodate rear axle Corvette C4
Front part reinforced and modified to accomodate front axle and axle beam Corvette C4
Welded additive struts for motor mount
Chassis frame parts renewed and modified with screwed-in gearbox unit to accomodate T-56 Viper gearbox
Swept, ground coated, sparkling graphite plastic coated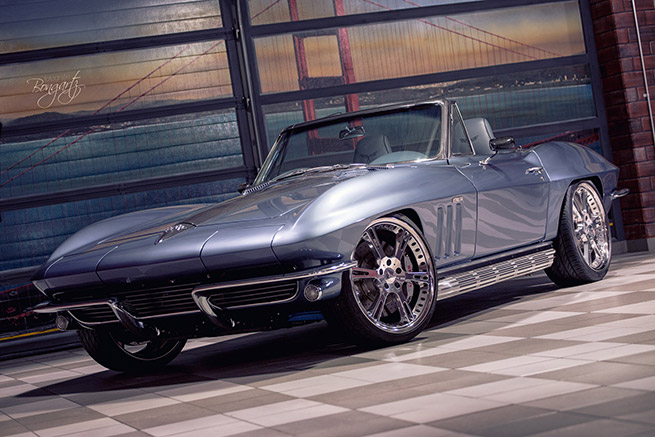 Axles:
Corvette C4 rear axle (build year 1996)
Aluminium axle parts polished and anodized blue
Poly bushes black
All screws black chrome-matted
Reinforced Dana44-differential, new bearings and clear plastic coated
Aluminium shafts, polished, anodized, joints new
Corvette C4 front axle (build year 1996)
Aluminium axle parts polished and anodized blue
Poly bushes black
All screws black chrome matted
Brake system:
Front axle
6-piston fixed calipers Brabus
Perforated discs Brabus 370mm
Flexible stainless steel brake lines
Other stainless steel brake lines with HOKE - fittings
Rear axle
4-piston fixed calipers Brabus
Perforated discs Brabus 350mm
Flexible stainless steel brake lines
Handbrake cylinder Corvette C4 (build year 1996)
Brake Cylinder AP Racing
Brake adjustment on balance beam
AP Racing pedals
Engine:
Corvette LS7, engine size 7,0l new (build year 2008)
ECM Corvette LS7
K&N air filter
Billet damper flap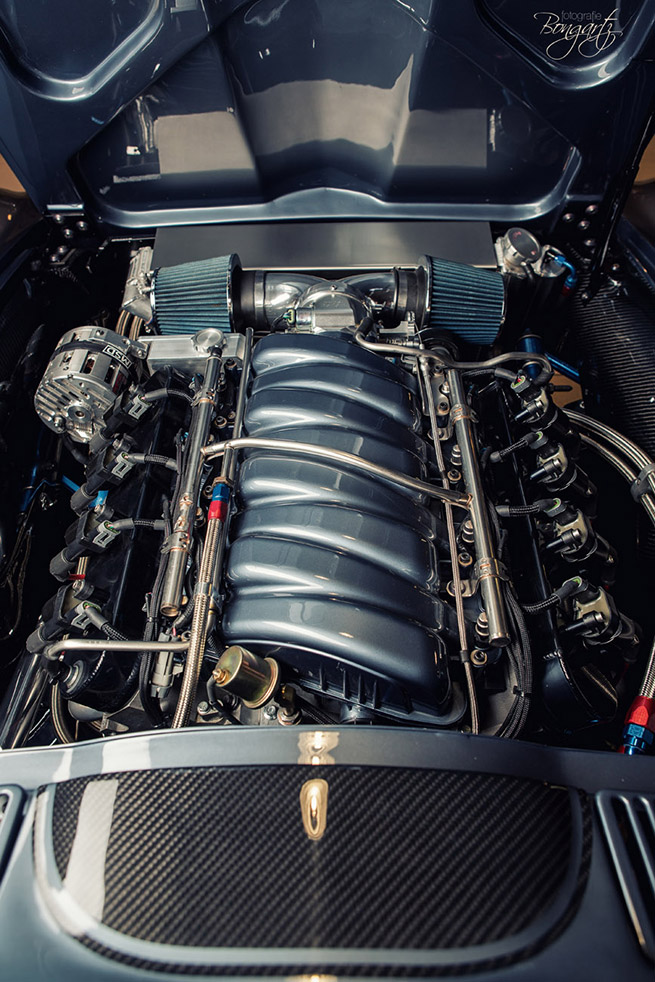 Transmission:
Viper T-56 new
Aluminium drive shaft
Billet pistol grip
Clutch GM LS7
Exhaust system:
3 inches stainless steel
Stainless steel muffler Corvette C2 427
Wheels / Tires:
- Front axle: threepart Wheelsandmore forged wheel 6Sporz with CNC shaped and high-polished compressed inside parts in 8.5x20 with 235/30ZR20 Pirelli P Zero
- Rear axle: threepart Wheelsandmore forged wheel 6Sporz with CNC shaped and
  high-polished compressed inside parts in 9.5x20 with 275/30ZR20 Pirelli P Zero
Fuel Tank:
Stainless steel tank with external fuel pump, front and main filter
All fuel lines fixed at the frame and the body with HOKE - fittings
Crossover lines flexible stainless steel with Earl's fittings
Cooler:
BECOOL-Aluminium radiator with stainless steel lines
Mocal engine oil cooler with Earl's fittings
Double cooling fan, controlled by engine control unit
Body:
Original C2 Corvette
Completely repainted inside and out
Inner fender newly manufactured to match C4 front axle and engine
Underbody changed to accommodate the exhaust system, gearbox and rear axle completely
New rear fender (about 10cm wider)
Body (inside/outside) laminated completely new and optimized gap dimensions
Inner fender and splash back in engine bay laminated with carbon fiber
Stripes on body and hood laminated with carbon fiber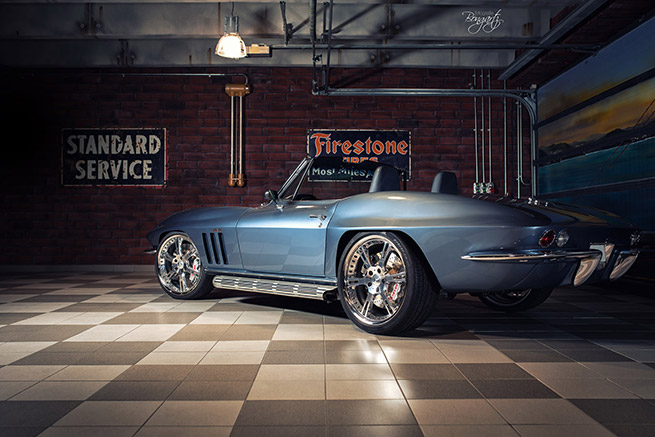 Bumpers:
Cutted and diminished and adjusted to body shape
Newly chromed
Headlights:
Golf 1
motors and engineering pop-up headlamps refurbished
Interior Features:
All parts covered with bicolored leather grey-blue / fitted with carbon fibered leather
All interior parts new such as bars, handles etc.
Electric windows
Central locking
Seats: Porsche 928 S4 electrically adjustable
Steering column: Flaming River polished stainless steel
Steering wheel: Billet with leather half-shell
carpet new
Dashboard fittings: Autometer carbon series
Head unit: Sony MEX1-HD hard drive radio
Storage space: Custom made loudspeaker case covered with leather and carpet
Convertible Hood:
Sonnenland - fabric dark blue
Leverage blasted, newly beared and painted black semi-gloss
Paint:
One-tone metallic with body-stripe in carbon fiber
4-layer clear lacquer
Source: Wheelsandmore