Callaway Cars today announced power numbers and performance for the flagship model in their performance car lineup. Equipped with Callaway's GenThree Supercharger, the Corvette Z06 now produces 757 bhp @ 6,200 rpm and 777 lb-ft @ 4,500 rpm (SAE). A launch to 60 mph is now achieved in 2.8 seconds, and a quarter-mile in 10.5 seconds at 131 mph. "Why Go Big, When You Can Go Bigger?" - Size Matters. To reach that power (which is up from 650 bhp / 650 lb-ft) the supercharger itself needed to be bigger since the output of a positive displacement supercharger is proportionate to its size. The Callaway GenThree supercharger is 32% larger in displacement (2300cc vs 1740cc).
Cooling
Callaway engineers recognize that a key contributor to maximizing power is reduction of inlet air temperature associated with forced induction. Callaway's unique triple-element intercooler configuration provides significantly lower and well-managed inlet charge air temperatures than single or smaller dual-element designs. The supercharger housing extends through the hood, thereby exposing it to outside ambient airflow and adding an element of convective cooling. The supercharger is visible without opening the hood, and heat is inherently extracted from the engine compartment.
Bold Packaging
The supercharger assembly is no longer cramped below the hood line. The completely redesigned manifold helps maintain consistent charge air temperatures with exceptionally low restriction and even airflow distribution to all cylinders, which results in a broad torque band producing over 500 lb-ft from 2,000 to 6,400 rpm. This translates to more consistent power delivery in severe-duty driving environments, a compromise typically observed with "underhood" approaches. A 10-rib drive pulley system was also integrated to prevent belt-slippage.
Patents
The technical features of the Callaway GenThree supercharger are significant enough that utility and design aspects of the system have been awarded patent pending status through the US Patent and Trademark Office.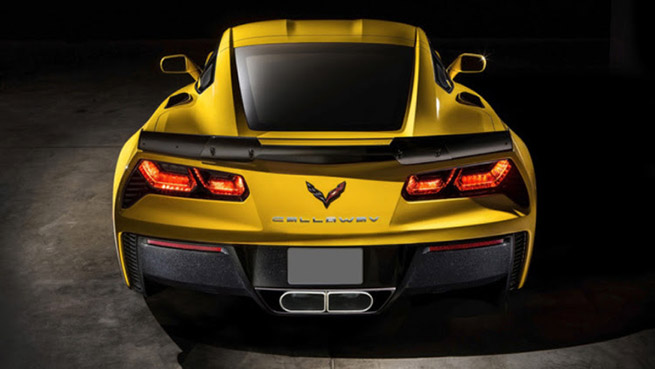 Competence
35 years of experience, compliance and warranty. All Callaway cars are assembled to precise engineering specifications by expert technicians at Callaway facilities, exclusively. Callaway provides the most comprehensive standard warranty among all specialty manufacturers. All Callaway cars are also fully emission-compliant. Additionally, there is an optional 5 year/60,000 mile Extended Powertrain Service Contract on all 2016 models.
Callaway corvette z06 standard equipment includes:
    Callaway "GenThree" Supercharger (pat. pend.)
    with Triple-Element Intercooler System
    Callaway Supercharger Hood Surround
    Callaway Carbon Fiber Engine Mid-Covers
    Callaway High Flow Air Intake System
    Callaway Embroidered Floor Mats
    Callaway Anodized Aluminum Door Sill Panels
    Callaway Exterior and Interior Badging
    Callaway Underhood Build Plaque with Vehicle Identification Number
    Callaway Key Fobs
    Callaway Authenticity Documentation Package
    Callaway 3 Year, 36,000 Mile Limited Warranty
Source:
Callaway