Callaway are specialized in producing high performance versions of the Chevrolet Corvette. Thanks to its unique approach by utilizing no-compromise materials, advanced manufacturing techniques and a form-follows-function design approach, Callaway's association with Corvette's transformation has flourished over the years.
Now the specialists have prepared a special project for us - Callaway Chevrolet Corvette SC610 based on the newest Stingray. In it they have featured direct fuel injection, continuously variable valve timing and advanced engine management control architecture.
Callaway has also modified the LT1 unit and it now produces over 600 horsepower (441 kW) and has a flawless transition into and out of positive manifold pressure. Fuel economy is practically unchanged from stock.
In addition, the supercharger kit also includes Eaton's TVS four-lobe, high helix rotor pack is retained for its high efficiency, OEM-certified quality and service-proven reliability. Callaway's new supercharger housing and manifold have been entirely redesigned for enhanced airflow and a new intercooler configuration reduces charge air temperature.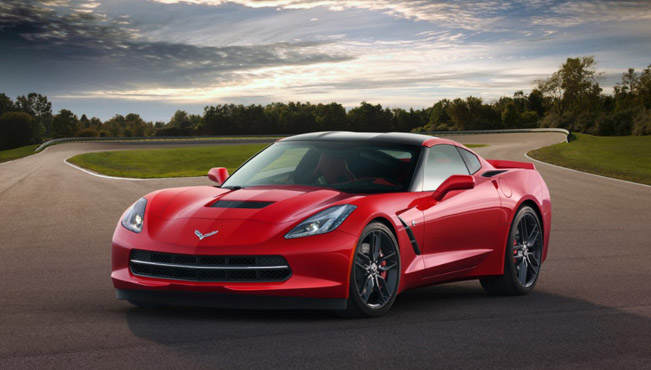 Furthermore, the supercharger is being front-driven, and has a design which extends through the hood for 2014, framed by a Callaway Carbon hood surround panel and integrated underhood air extractor.
Last year, Callaway Competition won the ADAC GT Masters championship. As a result, Chevrolet authorized Callaway exclusive rights to construct and homologate Corvette C7R GT3 race cars for FIA competition.
2014 Callaway Corvette Standard Equipment:
Eaton TVS (Twin Vortices Series) Supercharger System
Callaway Honker High Flow Intake System
Callaway Double-D Stainless Steel Exhaust System
Callaway Carbon Hood Surround/Extractor, with "Supercharged" Emblems
Callaway Exterior Badging
Callaway Door Sill Panels
Callaway Floor Mats
Callaway Underhood Plaque with Vehicle Identification Number
Callaway Dash Plaque
Callaway Key Fob
Callaway Corvette Authenticity Documentation
Callaway 3 year/36,000 mile Limited Warranty
2014 Callaway Corvette Optional Equipment:
Callaway AeroWagon Package (Spring 2014)
Callaway Nine Spoke Wheel/Michelin Tire package (Spring 2014)
Callaway Coil-Over Suspension with Double Adjustable Dampers (Spring 2014)
Callaway ShortThrow Shifter (Spring 2014)
Callaway Le Mans GT Brake Package (Spring 2014)
Callaway Sport interior Group (Spring 2014)
Callaway Carbon Body Package (Spring 2014)
Callaway Carbon Splitter (Spring 2014)
Callaway Carbon Rear Spoiler (Spring 2014)
Callaway Carbon Rocker Panels (Spring 2014)
Callaway Corvette Car Cover
National Corvette Museum Delivery
Callaway Factory Delivery
Callaway Extended 5 year/100,000 mile Limited Powertrain Service Contract
2014 Callaway Corvette Performance:
Horsepower: 610 bhp @ 6400 rpm (SAE) | Torque: 556 lb-ft @ 4500 rpm (SAE)
0-60 mph: 3.4 sec | 1/4 mi ET/Speed: 11.0 sec @ 125 mph | Max Lateral Acceleration: 1.05g
Source: Callaway