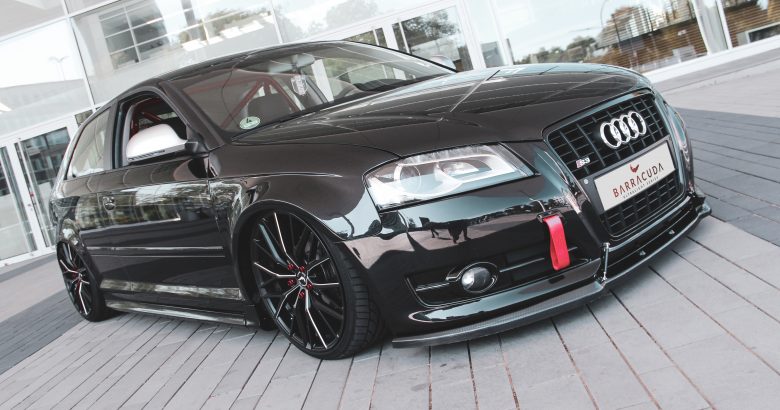 Barracuda presents new lightweight rim design with its exclusive Project 3.0, part of the so-called Ultralight series. Characterized by neat Y spoke and eye-catching milled spoke contrours, the lucky Audi S3 drom 8P series showcaes magnificent stance and menacing silhouette, that is greatly enhanced by the whel design.
Blended with supermodel Sabrina Doberstein of fashion and TV fame, the compact and yet agile three-door sports car is geared with 8.5×19-inch ET43 Project 3.0 rims with a 5×112 bolt circle. Secured with Barracuda racing bolts that need no registration and serve as handy antitheft function. And as it comes to the tires, these are 225/35R19. Neat!
Furthermore, additional goodies include dark-tinted taillights and Wiechers roll bar, exclusively fine-tuned adaptive air suspension that not only aids for better handling and more confident cornering, but also lowers the overall height of the vehicle and thus gives it sportier and aggressive appearance. And as we talk about appearance, we should mention that the design team has also added some neat visual touches here and there. The vehicle is covered in black glossy finish with black chrome and gloss inserts and components. The addition of side skirts and bumpers further contributes to the overall aggressive and sexy character. However, what I've liked the most about the visuals is the addition of red brake calipers – such small and yet super elegant touch surely underlines the whole beautiful design concept. Enjoy!
Source: Barracuda