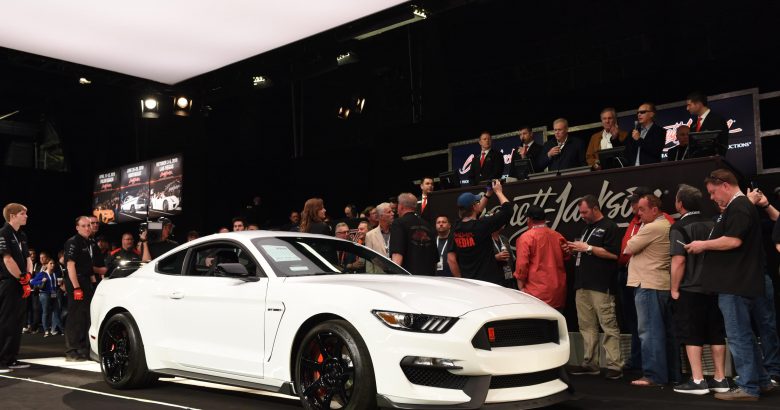 On Friday, January 18, 2019, in front of a packed house and a large TV audience, a special 2015 Ford Shelby Mustang GT350R, owned by Peterson Automotive Museum Founding Chairman Bruce Meyer was sold for charity at the Barrett-Jackson Scottsdale Auction. With 100 per cent of the given amount would be donated to the Peterson and the Henry Ford Museum.
Before crossing the block as Charity Lot #3006, Meyer's Mustang has covered less than 200 miles. His decision to offer the machine to charity came from his support of the Henry Ford Museum and the Peterson, where he serves as Founding Chairman of the Board of Directors and the founder of the Checkered Flag 200 – Peterson's top-level membership program.
Now, let's get back to the car, shall we? 2015 Ford Shelby GT350R celebrates 50 years of the iconic Mustang brand and features a 5.2-liter V8 engine, mated to a six-speed manual gearbox, producing a total of 526hp at 7,500rmp.
Although GT350R will no longer reside in Meyer's world-renown collection, an exclusive selection of his most prominent race cars will go on public display at the Petersen in the exhibit "Winning Numbers: The First, The Fastest, The Famous" opening February 23. This exhibit will feature a curated selection of Meyer's most important motorsport icons, including the first production Shelby Cobra, Porsche 935 K3 that won Le Mans, Greer-Black-Prudhomme dragster, two Le-Mans winners Corvettes and more.