If you were a car-obsessed teenager in the 1970s then you probably know all about the Camaro Z28. The Z28 was the Camaro that had all of Chevy's hot performance options and it was so fast that it was barely legal – really. Chevrolet built the Z28s from 1967 until 2002 at which point the line had evolved far away from its muscle car roots.
At the 2013 New York Auto Show, March 28th to April 7th, Chevrolet's showed their new Z28.  The salesmen at Annville Auto in PA tell us it was the hit of the show.  Although journalists had been talking and exchanging rumors about the vehicle for months, few were prepared for the kit of performance features that the Z28 actually included.  First, the new Z/28 uses the dry-sump LS7 7.0-liter aluminum V8 from the Corvette Z06.  Rated at 500 hp and 470 lb-ft of torque, this powerful engine gets unique free-flow induction and exhaust systems and a low-restriction K&N air filter.  The standard dual-mode exhaust system has larger-diameter pipes which actually bypass the mufflers during hard acceleration; things tend to get loud then.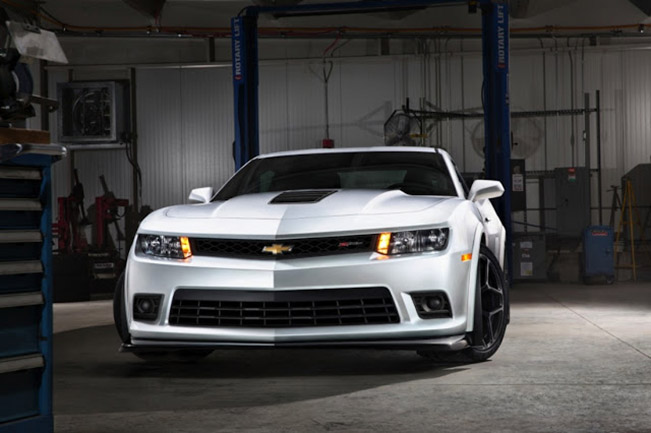 The only transmission available is a six-speed manual with a 3.91:1 final rear end ratio. (No automatic transmissions allowed! ) The limited-slip differential uses a helical gear set in place of traditional clutch packs which Chevy says continuously adjusts torque bias during hard cornering.  The brake rotors are made of carbon/ceramic instead of heavier steel.  The body itself contributes to the performance profile by being more aerodynamic than a standard Camaro.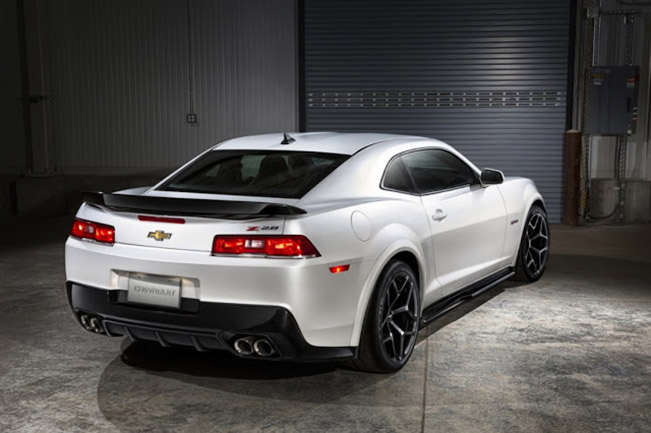 Plus it's a lighter car.  The engineers at Chevrolet worked hard to trim down the Z/28 to fighting weight.  The result is that it weighs 100 pounds less than the new Camaro SS and 300 pounds less than the supercharged Camaro ZL1 model. That implies a curb weight of around 3,800 pounds. In fact, there is no sound deadening material anywhere in the interior nor carpeting in the trunk to save weight.  The sound system has just one-speaker (necessary for safety chimes) and rear glass is actually thinner than standard models. The front seats use manual adjusters for all settings (no electric motors). Fog lights and HID headlights are not available and the needed wiring was taken out of the harness to save weight. Air conditioning is strictly optional.
Chevrolet says the new 2014 Camaro will get some 14 mpg in the city and 19 on the highway.  It will be available in late 2103 and The Lynch Group says it will be priced in the $34,000 range.