Dodge Charger Pursuit is going tactical in a big way for 2016, offering the heroic men and women who protect us with the all-new, and segment's largest, Uconnect 12.1-inch built-in touchscreen that enables a segment-exclusive integration of law enforcement computer systems with the easy-to-use and award-winning Uconnect touchscreen system. "As America's high-performance police vehicle, Dodge Charger Pursuit is going big for 2016, offering a massive, Uconnect touchscreen system that streamlines a law enforcement officer's computer system with our easy-to-use Uconnect system – on an all-new laptop-size 12.1-inch touchscreen display," said Tim Kuniskis, President and CEO - Dodge and SRT Brands, and Vice President - Fleet Operations, FCA - North America. "Designed and tested to Charger Pursuit's stringent test requirements, our all-new Uconnect 12.1 system is the latest piece of tactical hardware that is neatly integrated into the instrument panel for a mobile command center that could only be delivered from Dodge."
All-new and police-exclusive Uconnect 12.1
Designed exclusively to give law enforcement officers the upper hand, the all-new Uconnect 12.1 touchscreen system provides a fully integrated and exclusive approach to Dodge Charger Pursuit's mobile command capabilities. Compared to the Dodge Charger Pursuit's standard 5-inch display, the all-new Uconnect 12.1 features a 12.1-inch high-resolution touchscreen display that is more than five times larger in the center of the instrument panel. Uconnect 12.1 is ergonomically located and provides a large 1024 by 768 pixel display of Uconnect radio and vehicle controls, as well as the ability to toggle to a law enforcement officer's computer via a menu bar at the top of the screen. In addition, Charger Pursuit's new Uconnect 12.1 system can split the touchscreen to display the familiar and award-winning 8.4-inch (640 by 480 pixels) Uconnect interface. Designed to be intuitive, Dodge Charger Pursuit's cockpit includes redundant vehicle controls, such as radio and climate, located below the Uconnect system, while the driver can also use the switches on the back of the steering wheel, voice commands, the touchscreen display or the redundant knobs and buttons to control a bevy of vehicle options. Designed for ease of integration and operation, the Uconnect 12.1 features a plug-and-play solution (Ethernet) to connect an officer's mobile computer out of sight in the Dodge Charger Pursuit's trunk. Uconnect 12.1 was also engineered and tested to work with an officer wearing gloves, plus extreme operating conditions as low as -40°C and as hot as 85°C. For added upfit equipment control and capability, the 2016 Dodge Charger Pursuit's Uconnect 12.1 also provides a fourth auxiliary button, adding to the three steering-wheel mounted auxiliary buttons managed through the Vehicle Systems Interference Module (VSIM). This elegant wiring solution makes installation of upfit equipment easier, as the system is capable of providing the appropriate power, ground and fusing for a variety of LED, lighting, siren, computer, modem or camera systems.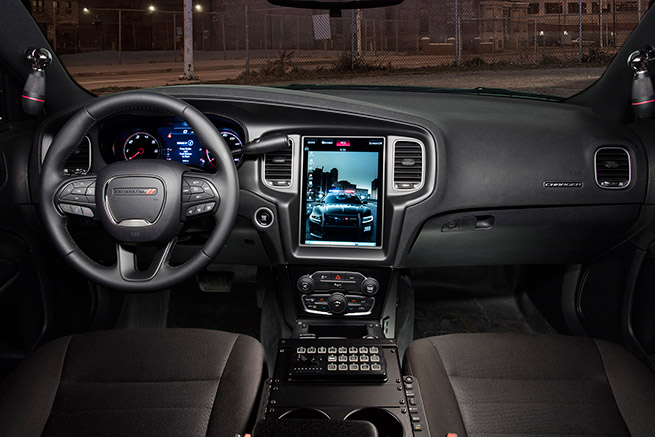 Designed with feedback from Dodge Law Enforcement's 19-member Police Advisory Board
The development of the 2016 Dodge Charger Pursuit's all-new Uconnect 12.1 touchscreen system was a team effort, combining the expertise of Fiat Chrysler Automobile's law enforcement vehicle design, engineering, fleet and Uconnect teams, plus its 19-member Police Advisory Board (PAB) to answer the call for an integrated mobile command center solution. Safety and security are the top priority when designing new tactical equipment for the Dodge Charger Pursuit. Uconnect 12.1 was conceptualized from the vehicle's team of law enforcement specialists, as well as feedback from the field. Advancements in law enforcement have put highly effective new tools in the hands of police. Laptop computers with data protection protocols have replaced two-way radios for the transmission of sensitive information, such as crime scene details and suspect identities. Police vehicles are jam-packed with additional displays, mounting brackets and keyboards that not only compromise comfort, they pose a risk to officer safety in the event of a collision. Initial feedback found that a traditional, center console-mounted laptop or screen positioned between driver and front passenger often added dangerous impact points or could even interfere with airbag deployment during a crash. In addition, these third-party upfit solutions were considered distractive to the officer's outward vision and line-of-sight. Last, the ergonomics designed into the vehicle's controls and even touchscreen displays were hindered by the installation of these bulky devices. The Dodge Charger Pursuit's team of law enforcement specialists saw a clear opportunity to adapt the easy-to-use Uconnect interface for the benefit of police officers and their mobile technologies. In 2012, the team provided Uconnect 12.1 system prototypes in the Los Angeles Police Department's Dodge Charger Pursuit test vehicles. And now, the all-new Uconnect 12.1 system is ready and available to all 2016 Dodge Charger Pursuit customers.
Uconnect 12.1 includes the latest upgrades for 2016
The all-new Uconnect 12.1 leverages the strengths and continued improvements of the Uconnect touchscreen family. Innovative features on the segment's largest touchscreen include, Bluetooth connectivity for mobile devices, Bluetooth streaming audio, ParkView rear back-up camera, SD Card slot, plus USB and auxiliary ports. Source:
Dodge