Few production cars can match the ZL1's performance, and all of its high-velocity achievements were conducted with a stock test vehicle wearing all the street-legal, factory-issued components – and no time-consuming equipment adjustments at the racetrack. More than just power and raw numbers, the ZL1 features technologically advanced and highly developed chassis and suspension systems. They help it deliver balanced, track-ready handling and braking power to complement high engine output, and include third-generation Magnetic Ride Control. The 2015 Camaro ZL1 is available in coupe and convertible models. Each wears a unique front fascia not shared with any other Camaro models. It was developed for the unique airflow requirements for engine cooling, brake cooling and aerodynamic downforce. ZL1 models also include high-intensity discharge headlamps, rear park assist, a rear-vision camera system, MyLink with a seven-inch-diagonal color touch screen, a driver information center with color display and head-up display. Recaro performance bucket seats are available on the coupe, and models equipped with the automatic transmission include remote vehicle starting.
Downforce-optimized design
To maintain stability and steering response at the speed the Camaro ZL1 is capable of achieving, it features an aerodynamic design that generates downforce to press the tires against the track. The Camaro ZL1 produces 65 pounds of downforce at an equivalent 150 mph (241 km/h) – compared to 200 pounds of lift in a Camaro SS – which was offset by an increase of only 40 counts of additional aerodynamic drag.
Camaro ZL1 convertible details
Because the Camaro's architecture was designed to accommodate a convertible model, it gives the ZL1 convertible coupe-like driving dynamics and performance capability. Four strategic reinforcements enhance the already-stiff body structure to quell the cowl and steering wheel shake common in convertibles. They include:
A tower-to-tower brace under the hood
A transmission support reinforcement brace
Underbody tunnel brace
Front "X" brace and stiffer cradle as well as rear underbody "V" braces.
Additional structural reinforcements in the ZL1 convertible are designed to improve noise and vibration characteristics, while also reducing unwanted ride and body motions, including a hydroformed tube in the A-pillars.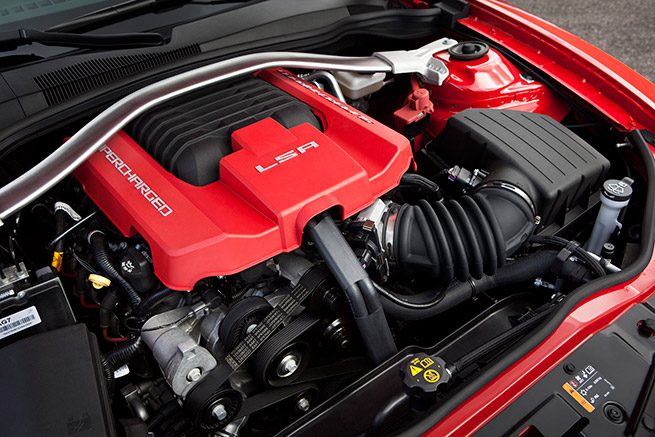 Track-capable manual and automatic transmissions
The ZL1 is offered with a six-speed manual or automatic transmission. The Tremec TR6060 "MG9" manual features 30 percent more torque capacity than in the Camaro SS. The higher torque capacity results from a strengthened output shaft, high-strength rear housing, and additional roller bearing. The MG9 has also been tuned for improved shift feel, with a dual-mass flywheel, twin-disc clutch, and triple synchros for smooth, precise shifts.
Chassis and drivetrain details
The drivetrain is unique to the Camaro ZL1 and is composed of a stronger driveshaft and rear axle system, featuring a larger, stronger 9.9-inch cast iron differential housing, stronger axles and heavy-duty limited-slip differential. This patent-pending system is designed to ensure that ZL1's tremendous power is delivered smoothly to the ground. A rear-differential cooler reduces temperatures in the differential by more than 100 F. Asymmetrical half-shafts – a 60mm hollow shaft on the right and a 33mm solid shaft on the left – offer different torsional stiffness rates, which work with the limited-slip differential to minimize the chance of wheel hop on hard launches. Also, the rear stabilizer bar has drop links positioned outboard of the control arms, for more effective body roll control in turns, with crisp response to driver commands. Camaro ZL1 features an advanced track-capable braking system, developed in conjunction with Brembo. Large 14.6-inch (370 mm) two-piece front rotors have six-piston calipers; the 14.4-inch (365 mm) rear rotors have four-piston calipers. ZL1-specific 20-inch forged aluminum wheels, which are lighter than the 20-inch wheels used on the Camaro SS, are used with Goodyear Eagle F1 Supercar G:2 tires developed specifically for the ZL1.
Interior features
ZL1 is tailored for high-performance driving and is offered solely with a black interior. Heated leather seats with microfiber inserts and ZL1 logos embroidered on the front head restraints are comfortable and deliver the support required in high-load turns on a racetrack, with Recaro performance front bucket seats available – including leather trim and microfiber inserts. Microfiber suede is repeated as an accent on the instrument panel, adding a richer look to the interior. Additional interior features include a thick, flat-bottom steering wheel, alloy pedals, head-up display with unique performance readouts, a "four-pack" auxiliary gauge system featuring a boost readout, as well as:
Unique instrument panel and door panel inserts; and ZL1-logo sill plates
Color driver information display
Color head-up display
Short-throw shifter
Steering wheel audio controls with Bluetooth capability
Rear parking assist
Rear camera system
Remote vehicle starter (available with automatic transmission).
A suede package, including suede microfiber accents on the steering wheel, shift knob and shift boot, is available, along with a power sunroof. Recaro performance seats are available on coupe models.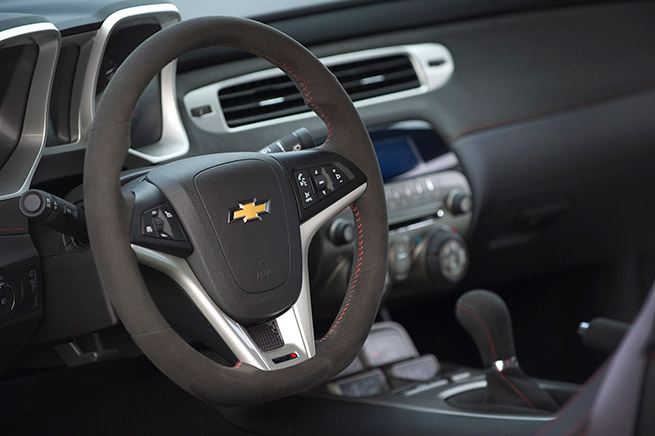 MyLink details
Camaro ZL1 includes Chevrolet MyLink, which seamlessly integrates online services such as Pandora® internet radio and Stitcher SmartRadio® using hands-free voice and touch-screen controls via Bluetooth-enabled phones. MyLink adds stereo audio streaming and wireless control of smartphones, building on the voice-activated Bluetooth hands-free calling capability already offered in most Chevy vehicles. MyLink features a high-resolution, full-color touch screen display designed to manage the number of steps required to complete a task. It also retains all the capabilities of conventional entertainment features, including AM/FM/Sirius XM tuners, CD player with MP3 playback, auxiliary and USB inputs.
Safety and crash-avoidance features
The Camaro ZL1 is designed to help drivers avoid crashes, and protect occupants in the event a crash occurs. A strong body structure is designed to absorb crash energy and provide a protective "safety cage" around occupants. In fact, the 2012 Camaro was the first passenger car to receive NHTSA's revised quadruple 5-star safety rating. Source:
Chevrolet