There was no need to modify the all-new 2014 Camaro Z/28 for the SEMA Show – it's already a comprehensively engineered car that recently lapped Germany's challenging Nürburgring road course in 7:37.40 – on wet track conditions. It was four seconds faster than the Camaro ZL1, and beats published times for the Porsche 911 Carrera S and the Lamborghini Murcielago LP640.
In terms of lap times, the Z/28's improved speed comes from three areas:
Increased grip: The Z/28 is capable of 1.08 g in cornering acceleration, due to comprehensive chassis revisions
Increased stopping power: The Z/28 features Brembo carbon-ceramic brakes capable of 1.5 g in deceleration, and consistent brake feel lap after lap
Reduced curb weight: The naturally aspirated Z/28 weighs 300 pounds less than the supercharged Camaro ZL1, with changes ranging from lightweight wheels to thinner rear-window glass.
The heart of the Z/28 is the 7.0L LS7 engine. The LS7 uses lightweight, racing-proven, high-performance components, such as titanium intake valves and connecting rods, CNC-ported aluminum cylinder heads and a forged-steel crankshaft to help produce an SAE-certified 505 horsepower and 481 lb-ft of torque. Air-conditioning is available, but only as an option.
The Z/28 goes on sale next spring.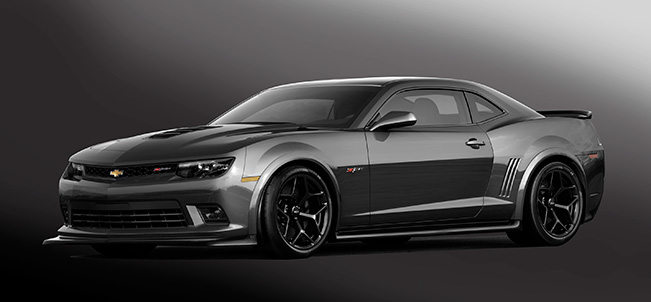 Source: Chevrolet