With a potent, 641-horsepower, a new LSX-based 454-cubic-inch small-block V-8 and the classic looks of the
1969 Camaro
, legendary baseball player and ardent car collector Reggie Jackson has a muscle car as strong as his World Series batting record. Jackson partnered with
GM Performance Parts
(GMPP) and the GM Performance Division (GMPD) to build a one-of-a-kind modern muscle machine that serves as a developmental showcase for GM's new LSX family of performance engine components. The powerful LSX 454 small-block engine is backed by a heavy-duty six-speed manual transmission and a sturdy 12-bolt rear axle with 3.91 gears. Additionally, Jackson 's Camaro features a host of custom features, including a scorching red hue derived from the Camaro concept vehicle, contemporary suspension upgrades and a black leather interior with baseball-stitched upholstery. "Reggie's Camaro is a great collaboration that represents the latest in power from GM Performance Parts and the style of today's multi-use muscle cars from GM Performance Division," said Lisa Reffett, marketing manager for GM Performance Parts. "Reggie's participation was instrumental, as he helped guide the design of the Camaro and even helped build the engine with racing legend Warren Johnson." Buildup of the Camaro will be featured on Hot Rod TV on ESPN this March, with footage shot of the car's build, engine assembly at Warren Johnson's shop, a tour of Jackson 's collection, testing at the GM Proving Ground in Milford , Mich. , and more. "It is an exciting car and was an exciting project to be involved with," said Jackson . "GM was involved in every stage of the buildup, so this is very much a 'new-old' Camaro built to OE specs."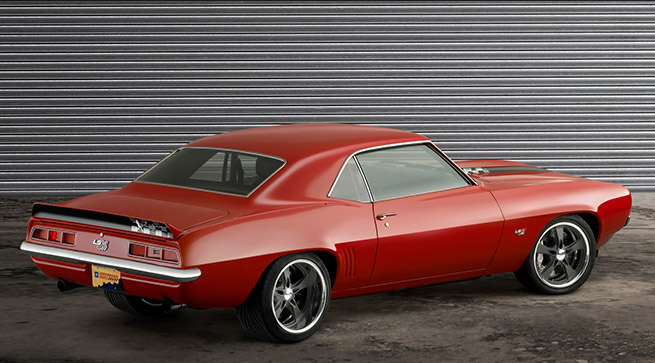 Inside the LSX from GMPP
The 454-cubic-inch small-block V-8 in Jackson 's Camaro is based on GMPP's new LSX Bowtie Block cylinder block and other engine components. The cast iron LSX block was designed for the creation of high-horsepower, large-displacement engines based on GM's Gen IV small-block engine architecture. The iron block enables engine builders to use traditional displacement-enlarging techniques to create large-displacement small-block engines of 500 cubic inches or more. The LSX block is also designed with a thick deck and strategic cast-in strengthening features that support high-horsepower supercharged and nitrous-oxide combinations. Jackson helped build the engine with famed NHRA racer Warren Johnson, who was instrumental in the development of the LSX block. For the Camaro, a simple but effective combination employing a single four-barrel carburetor and carefully matched cylinder head and valvetrain components was employed. The cylinder heads are prototype LSX heads, which are derived from the LS7 7.0L engine found in the Corvette Z06. They feature six head bolts rather than five, for increased cylinder head sealing – an attribute that builders of supercharged engines will appreciate. Bridging the LSX heads is a new GM Performance Parts four-barrel intake manifold designed to match the rectangular ports of the LS7 head. The manifold is already available from GMPP, allowing customers to run a carburetor on LS7 crate engines. Atop the manifold is a Holley 850-cfm carburetor. An ignition driver is all that's required to change from stock-type EFI to carburetion, and Jackson 's engine uses a custom MSD Ignition driver that is designed for GM's Gen III and Gen IV V-8 engines. With the ignition driver connected to the distributorless ignition system, the ignition timing is automatically set at start-up. The bottom end of the engine uses a Lunati rotating assembly with forged parts and Mahle pistons that combine with the LSX heads to deliver a pump-gas-friendly 11:1 compression ratio. A custom-grind camshaft was sourced and Comp Cams supplied the remainder of the valvetrain components. At Warren Johnson's dynamometer facility, the LSX engine produced 641 horsepower and 611 lb.-ft. of torque. More than the peak numbers, however, is the engine's Kansas-flat power band. The engine makes 520 lb.-ft. of torque at only 3,000 rpm, with torque rising steadily throughout the rev range. "The engine makes a mountain of torque at just about any rpm," said Johnson. "The best part is this isn't an exotic combination. It was put together with off-the-shelf parts that either are available now or will be shortly through GM Performance Parts." In other words, it's a combination that is easily reproduced as the family of LSX parts and engines grows. To complement the power packed into its 454 cubic inches, the LSX in Jackson 's Camaro was dressed with powder-coated accessories and custom rocker covers. The engine retains a classic look at first glance, but a second look reveals the individual coil packs and other features that identify it as a 21 st-century small-block. Stainless Works fabricated a custom exhaust system, including ceramic-coated headers.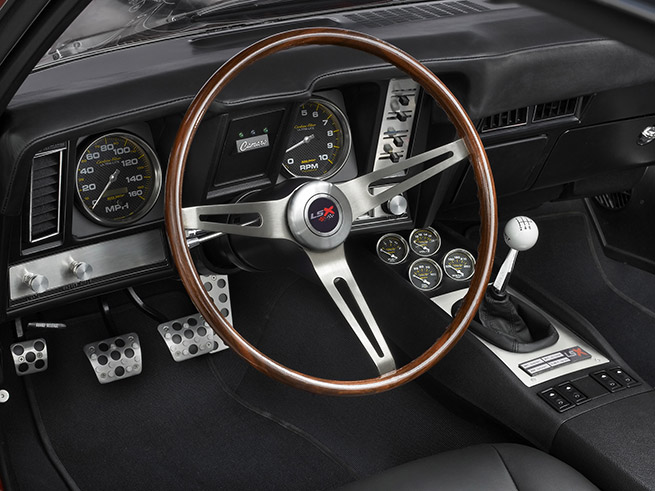 Drivetrain and suspension details by GMPD
The LSX engine in the Camaro is backed by a beefed-up Tremec T56 six-speed manual transmission. It is equipped with a heavy-duty clutch to stand up to the engine's considerable torque, channeling it via a custom aluminum driveshaft to a Detroit Speed & Engineering-built GM 12-bolt rear axle. The axle is fitted with an Eaton Detroit Locker Truetrac locking differential and 3.91 gears, which turn strengthened axles that are connected to 18-inch custom-design Budnik rear wheels and Goodyear high-performance rubber. Matching wheels and tires are found up front. To give the Camaro the agility and cornering capability enabled by the wide rolling stock – and spurred on by the 641-horse 454 engine – the engineers at GMPD had to harness the power. To do that, the front and rear suspension were replaced and updated with components from Detroit Speed & Engineering (DSE). Founded by former GM engineers, DSE offers a coil-over-shock front suspension system that replaces the first-generation Camaro's original setup. It includes tubular control arms and Koni monotube shock absorbers. It was adapted to Jackson 's Camaro, giving the car the driving reflexes of a modern sports tourer. At the rear, a DSE "deep tub" kit is employed. The QUADRA Link rear suspension, with Koni coil-over shocks, allows the mounting of a narrowed rear axle. A narrowed axle was needed to make room for the nearly 12.5-inch-wide rear tires. But even with the ultra-wide rear treads, grip is all too easy to overcome when calling up even a small bit of the LSX engine's deep well of torque. Matching the modern handling is an aggressive, four-wheel disc brake system from Brembo. It features large, cross-drilled rotors at all four corners, with four-piston calipers in front and four-piston calipers in the rear.
Classic looks, inside and out
Although its engine and underpinnings are thoroughly modern, the silhouette of the car is pure vintage Camaro. Jackson pulled the car from his 100-plus personal car collection and, with the help of GMPP and GMPD, it was restored and transformed. And while it looks like an all-stock Camaro body, several subtle changes were made to enhance its appearance. The bumpers, for example, were brought in closer to the body, for a smoother, tighter appearance. The front-end features a 1969-vintage Rally Sport grille, complete with "hideaway" headlamps. The body also has classic Camaro styling cues, including a cowl-induction hood and rear spoiler. Other subtle changes include the relocation of the market lights. California-based Classic Industries supplied all of the restoration parts, including new chrome trim pieces. A bright red color that matches the Camaro concept vehicle was sprayed by Detroit 's Trakon Kustoms. A Jackson-signature checker flag logo is found on the cowl induction scoop and the rear spoiler, while LSX logos adorn the fenders and taillamp panel. LSX logos also grace the interior, which melds the classic Camaro look with contemporary upgrades. The instrument panel is fitted with carbon-fiber-face Auto Meter gauges, located in housings that mimic the angled gauge placement of the original '69 Camaro interior. Also, the original seats were replaced with new bucket seats from a Cobalt SS. They were re-trimmed in black leather and feature baseball-style stitching. Pat Russell, of PJ's Trim, hand-stitched the seats. Source:
Chevrolet