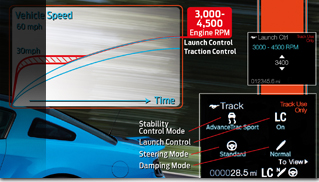 DEARBORN, Mich., May 17, 2012 – Paraphrasing a classic quote – "With great power comes the need for great control" – the engineers at Ford's Special Vehicles Team have stepped up to the plate to manage the massive output of the 2013 Shelby GT500.
Whether a driver is a track-day veteran or getting his first ultra-high-performance sports car, the new launch control system on the 2013 Ford Shelby GT500 will help ensure he gets smooth, consistent and fast starts every time.
Uncontrolled wheel spin is generally undesirable, whether commuting to work or racing away from the Christmas tree on a Friday night at the drag strip. Both safety and performance suffer when the wheels can't get enough grip on the road. However, properly regulated, some wheel slip can be your friend.
"Launch control is essentially a special mode of the traction control system that integrates the brake and engine management systems to keep the tires balanced on the peak of the mu-slip curve in order to achieve maximum thrust," explains John Pfeiffer, senior engineer, SVT Vehicle Engineering. "With so much more power and torque on tap from the new 5.8-liter V8, launch control makes it easier for drivers to take advantage of the performance."
With launch control enabled, the driver just has to press the accelerator pedal to the floor and then smoothly and quickly release the clutch pedal just as he normally would when executing a clean start. The difference is that the electronics will automatically hold the engine steady at the desired speed and manage the rear brakes to allow the optimum amount of wheel slip for maximum traction. Read more!