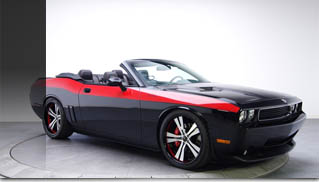 I think that RK Motors Charlotte is a great muscle cars expert and here come the details:
The first thing you notice about this car is what you didn't notice first: it's a convertible. Dodge hasn't built any Challenger convertibles [yet] but this one looks so right that it takes a second glace for most people to understand that this is not OEM, but an exceptional custom piece. The second thing you notice is that it's not just a Challenger that has gone topless, but rather an extremely special vehicle: Mr. Norm (Krause) had this car built for himself, and it is not only a convertible, but it is also the first Mr. Norm's Super Challenger, the first Kenne-Bell supercharged Super Challenger, and was custom built (as a hardtop) for the 2008 SEMA show in Las Vegas. Forty years ago, this would be like getting the first Hemi 'Cuda convertible ever built, and if you're a fan of Mr. Norm, perhaps it's even sweeter than that.
Oh, and did I mention that it makes 600 horsepower? Click on Read more and check out the FANTASTIC gallery!