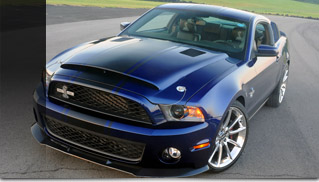 Shelby American, a wholly owned subsidiary of Carroll Shelby International Inc. (CSBI:PK), will offer a Super Snake post title package for the 2011 Ford Shelby GT500 with new styling cues and an optional 800 horsepower tuned engine. Only 1,000 total Super Snake packages for the 2011 model year car will be built at the Shelby American facility in Las Vegas or one of the official Shelby Mod Shops, beginning in September of this year.
"Ford Motor Company did a marvelous job making the 2011 model year GT500 lighter and more powerful," said John Luft, president of Shelby American. "Our team applied its experience building Super Snakes over the past several years to offer a package that dramatically increases the new car's capabilities. And with the visual changes we've made, it will be a definite stand out on the road or track."
Just like the 2011 Shelby GT350, born on the proving grounds of the drag strip and road course at Las Vegas Motor Speedway, Shelby American worked with companies like Ford Racing to create an even more aggressive suspension and engine package for the 2011 Super Snake.