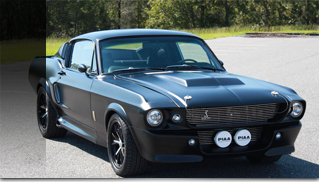 Complete Build Out Information:
Donor Car:
1967 Arizona ,Rust-Free, A-Code 4-Barrel Car
Restoration:
Full Rotisserie
Drivetrain:
Custom built Ford 428 cubic inch High Performance Engine Stroked to 478 CI. Runs on 93 octane unleaded gas.
BILLET Steel Crankshaft, H-Beam competition connecting rods, custom forged lightweight pistons and larger camshaft
QUICK TIME, Blow Proof bell housing and block plate
BILLET Steel fly wheel
Center Force dual friction clutch and pressure plate
TILTON Hydraulic clutch slave conversion
Aluminum Block Adapter for remote oil filter and cooler lines
Rod and Custom oil pan to fit suspension
Aluminum Roller Rocker Arms
Lunati Solid Roller Lifter camshaft, Edlebrock Performer RPM Aluminum heads, Canton racing modified rear sump pan
CNC Cylinder Head Porting- CNC ported and bench flow tested
Edelbrock High volume aluminum water pump Read more! See more images!