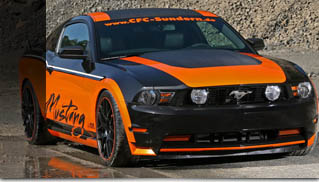 In a fast gallop – Ford Mustang from Design-World Marko Mennekes
Ford Mustang appeared in 1964 and became the ancestor of the Pony-Car-Class (Pony-Car-Klasse). Until now, the varieties of such bodies as Coupe, Fastback and Cabriolet is still a sensation due to their appearance.
Design-World Company in Sundern which incidentally is responsible for modeling station of CarFilmComponents (CFC-Styling Station) for more than six years, gave the originally equipped, a free-living prairie 412 hp engine an additional power impetus. Now the engine has 435 hp with a 5-liter capacity. V8 with 6 speed manual transmission of 2011 model year is fully equipped, including Shaker 1000 CD/MP3 sound system. The above mentioned increase in the capacity is achieved by open air filter with air box (Airbox), as well as software optimization.
At the same time, the car speed has been limited, but not as in previous versions. This condition is mandatory for such a wild horse. Read more and check out the gallery!