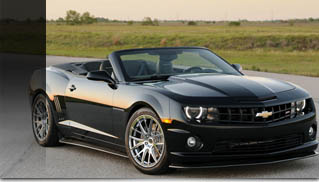 Hennessey 20th Anniversary HPE650 Supercharged Camaro
Black on Black 2012 Coupe or Convertible | Limited to 20 Examples
For 20 years Hennessey Performance has been making fast cars go faster. In celebration, the Hennessey 20th Anniversary Edition supercharged HPE650 Camaro is available in a limited run of just 20 examples. Available exclusively in a black on black paint scheme, with a choice of coupe or convertible, this 655 horsepower supercharged 2012 Camaro represents the power and styling that has defined HPE's distinctive brand of performance vehicles. Read the specs and check out the gallery!