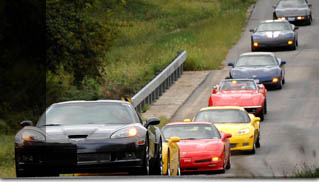 TWO AMERICAN ICONS, ONE SPECIAL EVENT:
CORVETTE FUNFEST 2011 TO HOST THE OSCAR MAYER WIENERMOBILE VEHICLE
Mid America Motorworks Celebrates All Things Corvette, Chevrolet's 100th Anniversary and a
Unique Piece of Rolling Americana that Turns 75 in 2011
Effingham, Ill. (September 7, 2011)-Two beloved examples of American culture, Corvettes
and the Oscar Mayer Wienermobile, are coming together for the first time at Mid America
Motorworks' 18th Annual Corvette Funfest Sept. 15-18 in Effingham, Ill.
This year also marks the 75th anniversary of the American icon in the shape of a hot dog and
bun. The Oscar Mayer Wienermobile will be on display throughout the weekend. The display
will give guests the chance to visit the hot dog on wheels and learn more about the legendary
vehicle from the brand representatives, affectionately called Hotdoggers.
"The Oscar Mayer Wienermobile is about as American as you can get along with the Corvette,"
said Mike Yager, Chief Cheerleader and Founder of Mid America Motorworks. "I am beyond
thrilled that we will be able to host it this year and have it be a part of our Corvette Party." Read more!