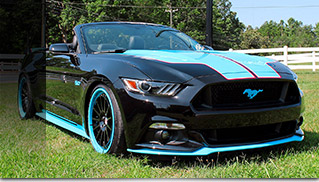 Featuring up to 727 horsepower, the new Petty's Garage 2016 Mustang GT King edition means that Ford's pony will be hell for some cats.
Petty's Garage – the in-house speed shop of NASCAR legend Richard "The King" Petty – returns with a limited number of highly modified Mustang GTs built to the specifications of The King himself.
"I've always liked the look of the Mustang, and the 2016 model gives us a great base car to work with," said Richard Petty. "These new King edition Mustangs are pretty much the way I'd build my own. They are great fun to drive, and have a signature single exhaust.