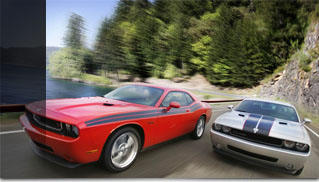 Pentastar V-6 Set to Roll Out Across Broad Range of New Chrysler Vehicles
* New Pentastar is slated to be available across 13 vehicles, including trucks and sport utilities, by 2013
* Significant cost savings realized with shift from seven engines to one V-6 engine
* 2011 V-6 Challenger boosted 55 horsepower to 305 horsepower with new Pentastar V-6
* Introduced in 2011 Jeep® Grand Cherokee, new V-6 engine will soon be available in new Chrysler Town & Country, 300 and 200, and Dodge Charger, Avenger, Durango and Journey
* Designed for a range of specific applications, horsepower and torque are tuned for specific models
* Fuel efficiency improvement will average up to 7 percent across the model range.

October 21, 2010 , Auburn Hills, Mich. – Improved fuel efficiency, more power and reduced emissions, all hallmarks of the new Pentastar V-6 engine, will soon be available across 13 models from Chrysler Group LLC.
The Pentastar V-6, the most advanced six cylinder engine ever produced by Chrysler Powertrain group, is slated to be the 'workhorse' engine across many models and will eventually replace seven different V-6 engines over the next three years. By 2014, the new V-6 is expected to account for more than a third of the powertrains in the vehicle line-up and substantially contribute to an overall corporate fuel efficiency improvement of more than 25 percent. Read more!