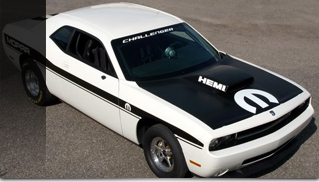 Mopar® Previews Customized Vehicles for 2010 SEMA Show
Chrysler, Dodge, Fiat, Jeep® and Ram Truck Vehicles Get Mopar® Treatment
October 25, 2010 , Auburn Hills, Mich. – It's SEMA season.
Mopar® is preparing 35 vehicles for the upcoming 2010 Specialty Equipment Market Association (SEMA) show, which takes place Nov. 2-5 in Las Vegas. Mopar will fill its 15,300-square-foot space with customized Chrysler, Dodge, Fiat, Jeep® and Ram Truck vehicles.
"With five exhibits, the Mopar brand will have a major presence at SEMA," said Pietro Gorlier, President and Chief Executive Officer – Mopar, Chrysler Group's service, parts and customer-care brand. "Mopar will showcase cutting-edge technology, innovative accessories, authentic parts, and new customer-care initiatives. And our Moparized vehicles will be must-see."
"We created an amazing cast of Mopar image vehicles for SEMA," said Ralph Gilles, President and Chief Executive Officer, Dodge Car Brand and Senior Vice President – Product Design. "As all of our new vehicles arrive in dealerships this year, we want to inspire customization and personalization. Our Mopar image vehicles will definitely turn heads." Read More!