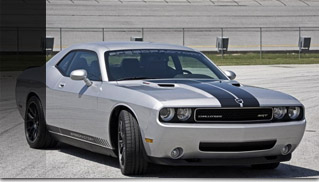 SpeedFactory recently revealed their latest project – SF600R, which is an engine upgrade for the Dodge Challenger SRT8. In fact, SpeedFactory have increased the output of the car from 425 hp to 600 hp (447 kW / 608 PS) without the use of a supercharger.
At first, the tuners increased the 6.1-liter HEMI engine to a full 7.0-liters. Aside from a higher volume air intake system paired to a stainless steel Corsa exhaust , SpeedFactory also used "a custom Comp hydraulic cam along with an 85mm throttle body with a CNC machined stock manifold that is port matched with a blended plenum to produce a dyno-proven 595-605 HP on premium-grade 91 octane pump fuel," as a statement from SpeedFactory reads.
What's more – the SF600R has a six-speed manual transmission, while also adding a Getrag IRS and Centerforce clutch. The engine was not the only thing tweaked by SpeedFactory. The vehicle's handling is improved with performance springs and sway bars as well as additional front and rear strut tower braces. The 20-inch BBS wheels are wrapped in Michelin Pilot Sport PS2 tires and gives this beauty a real muscle car look.