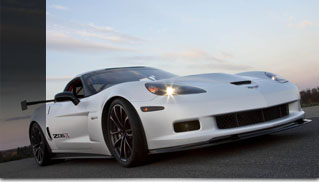 2011 CHEVROLET CORVETTE Z06X TRACK CAR CONCEPT
Corvette is a mainstay on racing circuits ranging from LeMans to club racing. Chevrolet's Corvette Z06X Concept suggests a new idea and components for transforming a production Corvette into a serious, closed-course track car.
The Corvette Z06X Concept showcases how an enthusiast can leverage Chevrolet's expanding portfolio of performance parts to create a full-on track car. Chevrolet teamed with Pratt and Miller, partners in Corvette Racing in the American LeMans Series, to create this Z06X track car concept.
"Racing is an integral part of Corvette performance and technology," said Tadge Juechter, Corvette chief engineer. "This concept car represents a mid-point between our GT race car and the production Z06, prepared by the team responsible for the Corvette Racing C6.R race cars, and featuring many performance parts owners can choose today."
The Z06X concept is based on the Corvette Z06 with the 1LZ equipment package, along with the Z07 Performance Package and CFZ Carbon Fiber Package. The 2011 Z06 with the Z07 package creates the lightest production Corvette and includes carbon ceramic brakes and Magnetic Ride Control, while the CFZ package offers body components that enhance aerodynamic down force on the race track, including a front splitter. Read more!