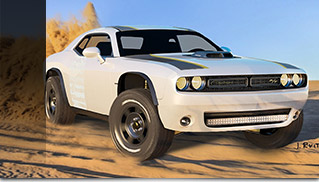 Combining our love of American muscle and off-roading. When products work well in the worst extremes, it will work that much better in normal use. No curb, parking gate, city ramp, pot-hole, or incline will ever be an issue.
Why should a car be limited to the road it drives on?
Meet the CONCEPT Dodge Challenger A/T with more muscle than ever. It's sleek enough for the city nightlife and rough enough for the off-road landscape.