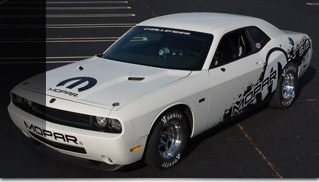 Dodge has prepared an extreme, drag strip-orientated incarnation of the 2011 Challenger.
Dubbed the Challenger Drag Pak, the vehicle drops its 6.1-liter V8 engine in order to use the Viper's 8.4-liter V10 powerplant, which is mated to a drag racing two-speed automatic transmission. The power is sent to the road via a solid rear axle and a set of special tires. The racer can be ordered in Stock Eliminator or Super Stock versions.
Many systems and parts that added weight to the vehicle have been removed. We are talking about the HVAC system, the windshield wiper assembly, the rear seats, the power steering and the underbody heat shields.
The vehicle has been fitted with special parts such as polycarbonate door windows, lightweight racing seats that are six-point harness-ready, custom drag-race only front brakes, manual rack and pinion steering and others.
Mopar (the Chrysler Group's parts division) will only build 70 units of the car, each one set to retail for a price of $85,512. Read more!