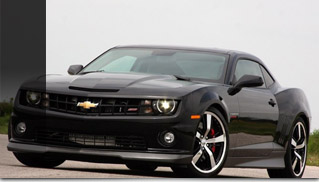 From hennesseyperformanceblog.com: When this Cyber Gray 2010 Camaro SS arrived at Hennessey, it was originally outfitted as a supercharged HPE650 with one notable difference — a forged, low compression 415 cubic inch LS3 stroker motor. Well, when you have a love of horsepower and a rock solid foundation to build on, the urge to take things further is hard to resist.
After all, the same 415 stroker is at the heart of the Hennessey HPE800 Twin Turbo Camaro upgrade, so determining the method of attack for producing big numbers was a no brainer.
After transforming the HPE650 to a twin turbo HPE800 and making well over it's advertised numbers at a super-conservative 11 psi, the time came at the request of the customer to increase the boost and have a little fun.
So with a few more pounds of boost — 16 psi total — the HPE800 Camaro easily put down nearly 850 horsepower to the rear wheels and just a hair over 800 lb-ft of torque (847 rwhp / 801 lb-ft tq to be exact). Factor in your basic drivetrain loss for a 6-speed manual Camaro and the horsepower numbers hit right near 1,000 HP mark!
But what makes the numbers even better is the conservative and SAFE nature of the Hennessey twin turbo setup. A strong motor, efficient turbo design and proper fuel support means the HPE800 (and even the 427 cubic inch LSX-powered HPE1000) Camaro can be tuned for bird-dog reliability while making outrageous amounts of power. Read more!