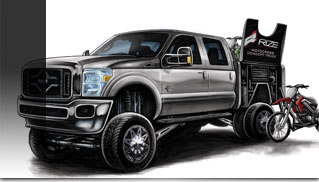 American manufacturer Ford, one of the most active carmakers in aftermarket customization, is getting ready to rock the Specialty Equipment Market Association (SEMA) show in Las Vegas at the beginning of  November with an entire line of specially tweaked F-Series trucks.
Built together with various aftermarket specialists, the models to be presented at SEMA include a motocross concept, a Pro Football Hall of Fame-dedicated truck and a race car support truck. Below is the list of F-Series goodies to be showcased at the event.
Godfather Customs 2011 Ford F-150 – based on the F-150 powered by a 3.5l EcoBoost engine, the truck comes with a 2.5-inch cowl induction hood, bumper cover, roll pan, handle relocator, tonneau bed cover and liner and halo taillamps. Read more!