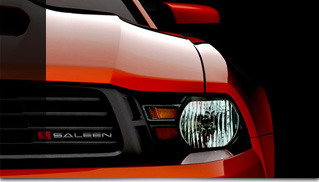 Saleen Performance Vehicles announced it is preparing the new 2010 S281 convertible for public debut this weekend at the Fabulous Fords Forever! The event will be hosted at Knott's Berry Farm in Buena Park, California. According to the black S281, Saleen will also show off with a silver coupe and the Saleen 435S.
It is a well-know fact that the S281 is based on the 2010 Ford Mustang plus the Saleen tradition of limited-edition, high-performance vehicles "for enthusiasts who are looking for an exhilarating driving experience, with refined drivability for real-world road conditions."
The power unit is the 4.6-liter V8 engine, complete with a Saleen Series VI.5 twin-screw supercharger and dual-stage intercooler, producing 485 hp and 460 lb.-ft. of torque. It's equipped with a short-throw, five-speed manual transmission and a limited-slip differential with 3.73:1 final drive ratio.