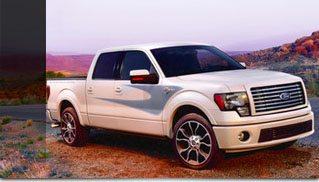 STURGIS, S.D., Aug. 9, 2011– The 2012 Ford Harley-Davidson™ F-150 delivers on the custom cool design that the lineup has been known for, with new snakeskin leather interior accents, a new stylized bodyside graphic and a new wheel and premium paint color. Combine that with a standard 6.2-liter V8 engine and plenty of technology, and it delivers power, capability and style like no other.
"This is a great pairing of two icons of the open road: Ford and Harley-Davidson. Both brands appeal to truck owners and motorcycle enthusiasts alike," said Marc Lapine, Ford F-150 marketing manager. "For 2012 we worked with Harley-Davidson to continue to push the styling envelope while still delivering the durability and power that F-150 is known for and that our collective customers expect. It perfectly captures both brands."
The successful collaboration between Ford and Harley-Davidson has produced 10 F-150 models, as well as six Super Duty F-250 and F-350 models, and in 2009 the first Harley-Davidson F-450 edition truck. Ford has sold more than 70,000 Ford Harley-Davidson F-Series trucks since the brands teamed up in 1999. Read more!