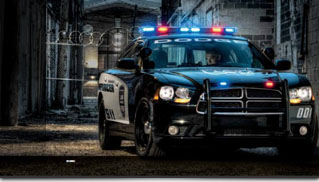 Dodge to Offer Mopar Packages on New 2012 Charger Pursuit
Mopar teams up with industry-equipment leader Crown North America to deliver an all-new 2012 Dodge Charger Pursuit
Option packages offer one-stop shopping for law enforcement customers
Dodge Charger Pursuit offers choice of two engines: aluminum 3.6-liter Pentastar V-6 engine, which delivers 292 horsepower and 260 lb.-ft. of torque, offers E-85 flex-fuel capability and up to 27 highway miles per gallon (mpg). For best-in-class power, Dodge Charger Pursuit's legendary 5.7-liter HEMI V-8 engine with Fuel Saver Technology delivers 370 horsepower, 390 lb.-ft. of torque and up to 25 highway mpg
Standard 5-year/100,000-mile powertrain warranty; standard 3-year/36,000-mile warranty on Mopar equipment
24 Mopar parts may be ordered separately
Police packages now available for ordering
September 7, 2011 , Auburn Hills, Mich. – Dodge and Mopar® are in hot pursuit of police car sales.
Today Dodge and Mopar announced six all-new quality-tested and factory-installed police-equipment packages for the high-performance 2012 Dodge Charger Pursuit. Vehicles are ready-for-duty right from the manufacturer.
"Mopar is adding even more value to our all-new 2012 Dodge Charger Pursuit," said Pietro Gorlier, President and CEO of Mopar, Chrysler Group LLC's service, parts and customer-care brand. "We are adding proven, quality-tested tactical equipment to this pursuit vehicle and creating a one-stop shop for police customers. With six quick-order packages, police departments have the ability to customize their vehicles to exact specifications."
To enhance Dodge Charger Pursuit's world-class levels of technology, safety, handling and efficient power, Mopar teamed up with industry-equipment leader Crown North America to develop six police packages that are designed to provide law-enforcement officers with the best combination of tactical equipment and performance. These police-equipment packages feature emergency lighting, audible warning, communications and safety equipment. Industry-leading suppliers involved in the development include Whelen Engineering, Setina Manufacturing and Havis, Inc.
"With rear-wheel-drive, best-in-class V-8 power, seven air bags and up to 27 miles per gallon during highway cruising, the Dodge Charger Pursuit is an excellent police car on its own merits," said Reid Bigland, President and CEO – Dodge Brand. "Our partnership with Mopar to produce these six police packages takes the car to the next level by allowing our customers to customize their cruisers to meet their specific needs." Read more!