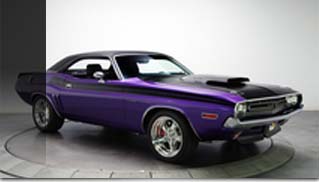 Today's featured car is this perfect 1971 Dodge Challenger R/T Plum Crazy 528 HEMI V8 5 Speed. It's price is around $90,000 and available at RK Motors Charlotte. Here's the full text from RK Motors Charlotte:
We're all familiar with the term 'resto-mod' and how it gets thrown around to describe cars which
1) haven't been restored that well and
2) haven't been modded that much at all.
But, simply put, the true theme of the 'resto-mod' movement is: THE BEST OF EVERYTHING. And if there was ever a textbook example of a true-to-form 'resto-mod', this 1971 Dodge Challenger has to be it. Showcasing the hard work of a very skilled builder who understands how to enhance the best attributes of a slick, frame-off restoration, this badass Mopar features a slew of handpicked, top-shelf parts which create a classic that can be shown AND driven with the best muscle cars on the road.
Take one glance at this Challengers wet-look Plum Crazy Purple exterior and it's obvious that the cars top-notch restoration was both thorough and expensive. Take two or three minutes to look down the sides of this rock solid Dodge and you'll find exact angles and flawless reflections which set it apart from all but it's most extensively restored peers. Take an hour to visually examination this highly detailed Mopar and you'll notice that the accent line which runs from nose to tail is expertly paralleled and caps straight quarters that have been painstakingly finished to provide a near flawless canvas for the cars slick, high quality basecoat/clearcoat paint. Take a look at the gallery and click on Read more!