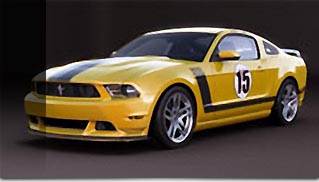 DEARBORN, Mich., Oct. 13, 2011 – When Ford Designer Melvin Betancourt created a one-of-a-kind 2012 Mustang Boss 302 Laguna Seca for auction at an upcoming charity event to benefit cardiovascular care, research and education at Henry Ford Health System, he says it was a labor of love that came straight from the heart.
Betancourt, 49, suffered a serious heart problem 11 years ago, and he credits the doctors at Henry Ford with saving his life.
"I went to the doctor thinking I had a bad cold and the specialists at Henry Ford told me I had what is called an aortic dissection – a tear in the major blood vessel that carries blood away from the heart to the body," recalled Betancourt. "As a result, my aorta had grown to the size of a softball, and I needed immediate open-heart surgery."
If left undetected, aortic dissections can lead to sudden death. Read more!