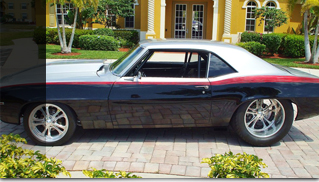 This 1969 Chevrolet Camaro PRO-Touring 617 Horsepower Merlin Engine was professionally restored at Phoenix rods & speed and finished in late 2011. A lovely muscle car for enthusiasts!
Body:
complete restoration, new roof, floor pans, firewall, fenders, rollpans, hood, decklid, rear quarters streched 2″ and lengthened 4″,huge tubs and roll bar installed
Interior:
all new door panels, dash, carpet, seats, flaming river tilt coulmn, wheel and 5 point harness Read more!