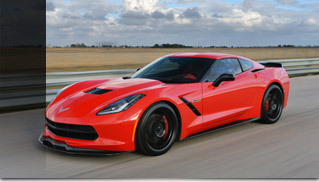 Hennessey Performance will unveil its most powerful Corvette Stingray built up to date at the Boca Raton Concours in south Florida on 21st of February. At the heart of Hennessey Chevrolet Corvette Stingray HPE700 Twin Turbo is its twin turbo system that uses a pair of precision ball bearing 62-mm turbochargers producing 7 psi of boost pressure. 
The HPE system has been handcrafted and uses mandrel-bent stainless steel tubing and dual turbo wastegates. Twin blow-off valves on the intercooler's TIG-welded aluminum plenum are also present. To go further into details, the HPE700 Twin Turbo produces 707 hp (520 kW) at 6,400 rpm and 895 Nm (661 lb-ft). The power is transferred on the road though either a 7-speed manual or 6-speed automatic transmission.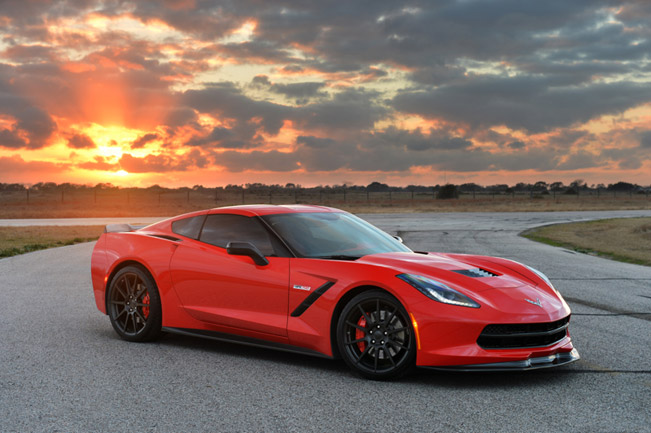 When the vehicle is fitted with optional 20-inch drag radial tires, it hits 60 mph from a standing start in just 2.9 seconds. The top speed is estimated to exceed 210 mph. The additional power requests additional control. For this reason, the tuning company has added HPE CarbonAero carbon-fiber front spoiler, side sills and rear lip spoiler, which provide additional overall downforce.
What rounds out the appearance of the car is the 10-spoke Hennessey H10 forged monoblock wheels coupled with factory Michelin Pilot Super Sport tires. Thanks to these wheels, the car becomes over19 lb lighter, which results in the reduction of both rotational mass and unsprung weight.
Hennessey plans to produce only 24 examples of the HPE700 Twin Turbo Corvette for the 2014 model year. A turn-key price of $120,000 for the full package really is high, but before you go back to browsing used cars, consider this: buying one of these, you can play with the big boys. Think Ferrary 459 or McLaren MP4-12C. And, hey, you get warranty too.
2014 Hennessey Chevrolet Corvette Stingray HPE700 Twin Turbo Specifications:
Power
708 hp (520 kW) @ 6,300 rpm
HPE700 Twin Turbo Upgrade Includes
Twin Ball Bearing Turbochargers
Fuel System Upgrade
Stainless Steel Inlet Piping
Dual Wastegates
Air-to-Air Intercooler
Dual Air Induction Filters
Stainless Steel Turbo Downpipes
Stainless Steel Exhaust System
Professional Installation
HPE Engine Management Calibration
Dyno Tuning & Road Testing
Serial-Numbered Dash & Engine Plaques
Hennessey Exterior Badging
Hennessey Premium Floormats
Hennessey Carbon Fiber Door Sills
1 Year / 12,000 Mile Limited Warranty
Optional Upgrades
Hennessey CarbonAero Rear Lip Spoiler, Side Sills & Front Lip Spoiler
Hennessey H10 Monoblock Wheel Upgrade
Michelin Pilot Super Sport Tires
Brembo Carbon Ceramic Brake Upgrade
Penske Adjustable Suspension Upgrade
Custom Interior Leather Upgrades
Carbon Fiber Interior Upgrades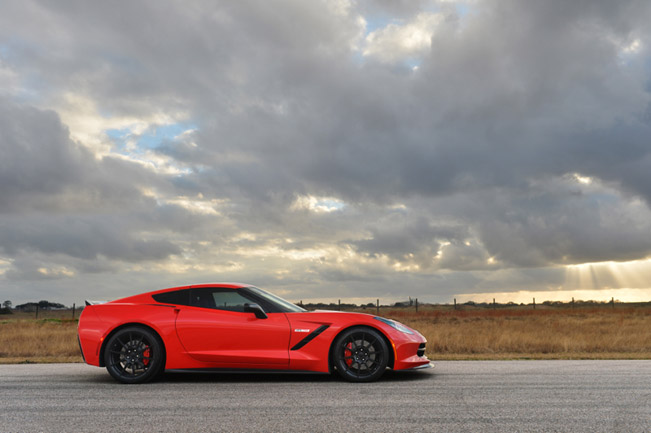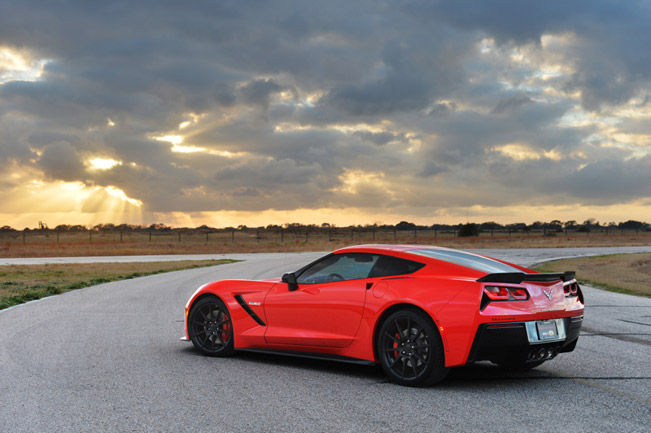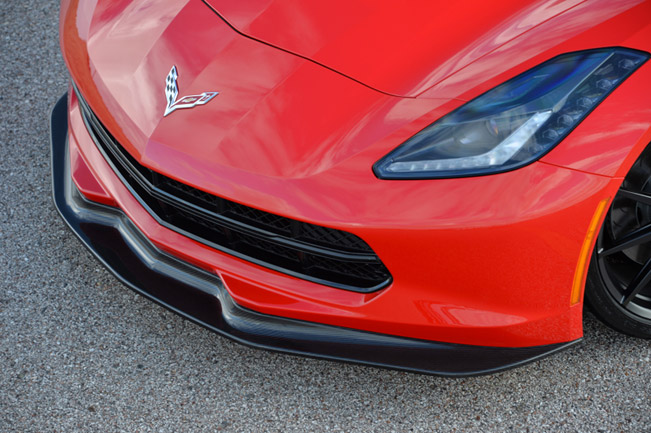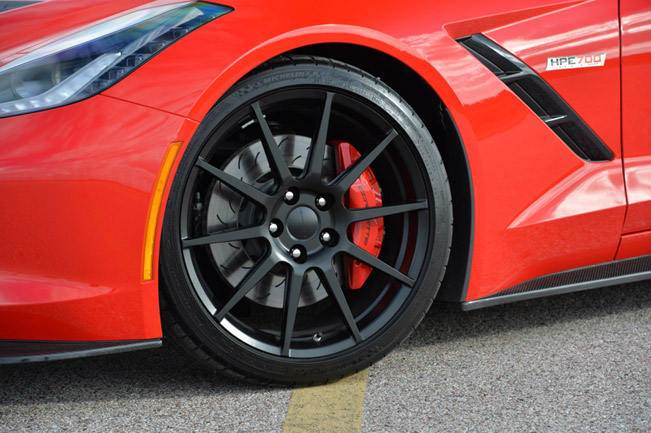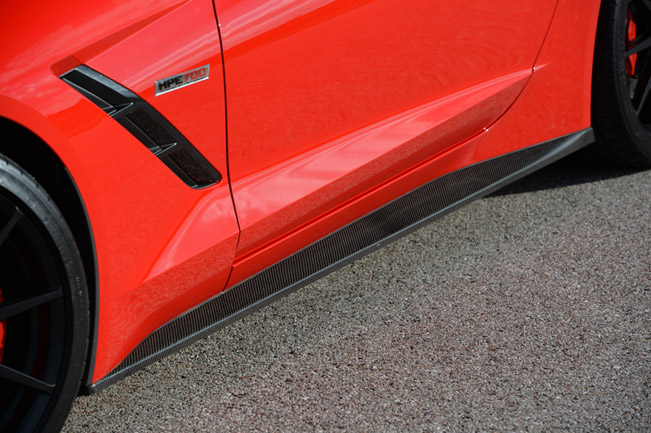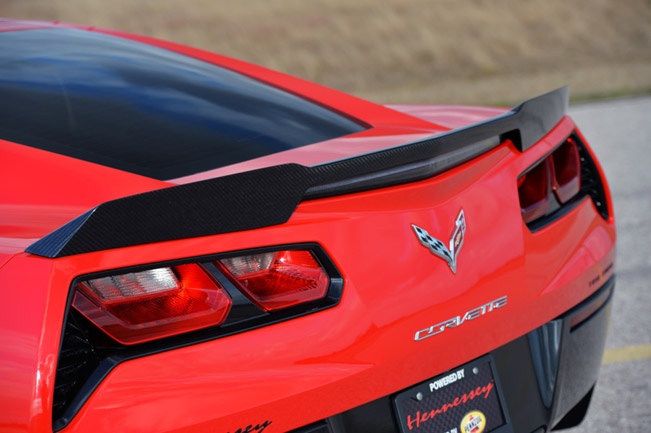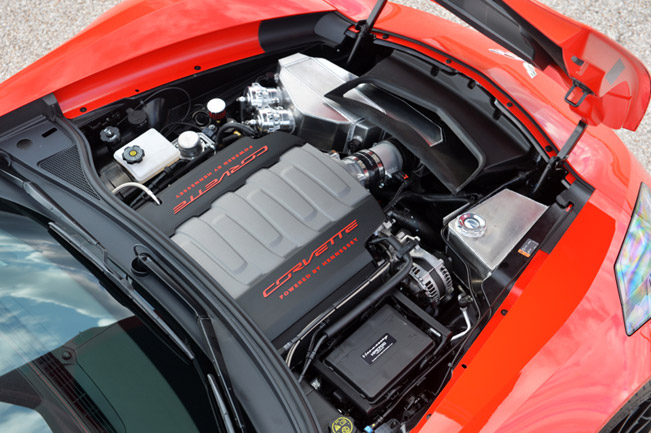 Source: Hennessey