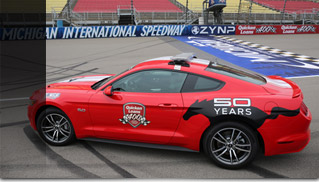 Ford has just announced that its 2015 Mustang is going to be official pace car for the Quicken Loans 400 NASCAR Sprint Cup race at Michigan International Speedway (MIS). The racing will take place on Sunday, 15th of June. The participation of the car is continuation of the ongoing tribute that Ford makes to commemorate the 50th anniversary of the iconic pony car. This is the first time that a Mustang GT fastback is appointed as a pace car at MIS. Ford Motor Company president of The Americas, Joe Hinrichs, will be the person who will drive the car and will race the Red fastback around the track in Brooklyn.
Just like the GT version, the pace car is also equipped with 5.0-liter Ti-VCT V8 engine. This means that it is perfect for its new job. The powertrain generates more than 420 horsepower (310 kW) and 529 Nm (390 lb.-ft.) of torque. The production version of the fastback is going to hit the showrooms later this year when it will offer two other engines – the 3.7-liter V6 and 2.3-liter EcoBoost.
The sixth generation Mustang is driven from its rear-wheels. Its design keeps the emblematic long hood and short rear decklid proportions, low and wide stance. However, it also has new contemporary design characteristics and is built via state-of-the-art engineering and technology.
A new feature for instance is the independent rear suspension, which was engineered specifically for the new platform on which the Mustang is built. 2015 Ford Mustang fastback has a starting price of only $24,425 USD and will be available from Ford dealers in North America this fall.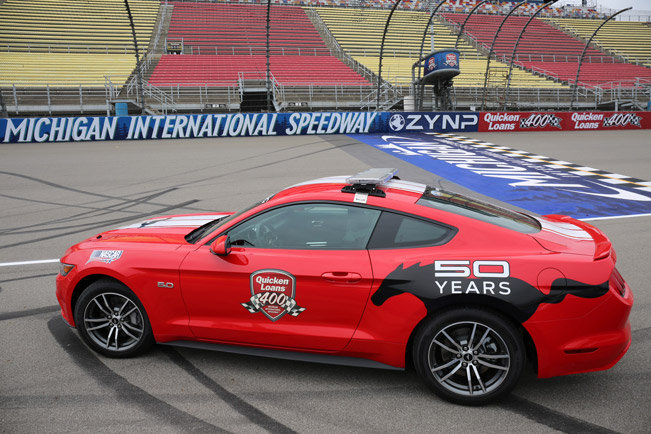 Soruce: Ford