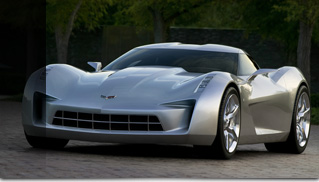 Chevrolet Corvette. Let's start with the fact that last year, Ed Welburn, GM's vice president of global design, invited GM's 10 styling studios to submit design proposals and some of the results were "absolutely phenomenal". He also added – "There is a lot to pick from. The direction that we take is very important, and the decision has not been made."
Obviously this move from GM are aimed to attract buyers in Europe, where the car has little appeal, and young U.S. buyers. According to The Power Information Network, the current average age of a Corvette buyer is 54. Critics says it looks big with a cheap-looking interior. Welburn agrees with the interior "problem" – "The execution, materials selection–it's got to be a much better interior. Our customers desire that." And we'll add what industry says – a redesign is due in two to three years.
Welburn compares today's Corvette with Porsche 911 – they are about the same size, but the styling makes it look larger. Let's cite Welburn again – "We have to develop a design that feels trimmer, meaner, to go along with the incredible performance that the car has." He also intended it's about time for development of the Corvette, but the new Corvette can't be so far away in concept than today's Corvette.
Musclevehicles.com – The Ultimate Blog for American Muscle Cars and Muscle Vehicles